Recognition Awards Made Fun & Easy
Use our Top 10 Recognition Awards Slideshare to strengthen your employee engagement activities and keep employees engaged in their work with all different types of public recognition awards. The more recognition they receive the more excited they will be to accomplish their goals.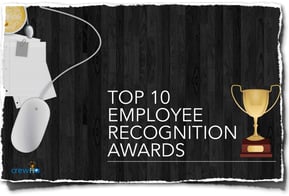 Our FREE Top 10 Employee Recognition Awards Slideshare will teach you:
When to Give Recognition Awards
There are plenty of good reasons to recognize your employees for their hard work

Different Ways to Present Recognition Awards
Verbal, Written, Giveaways, and more! (All made easy with our employee recognition software)
Effective Recognition Award Examples
Gift Cards, Happy Hour, Free Team Lunch, and many more!