5 Ways to Improve Your Online Footprint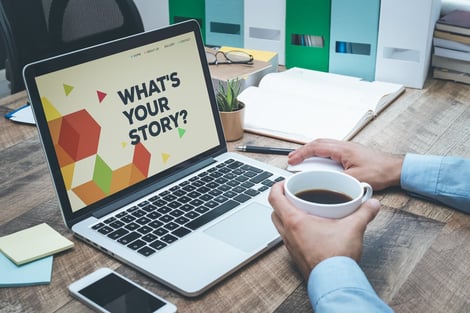 Your online presence is crucial to staying relevant as a brand. Here are 5 great ways to improve your online footprint.

Key Takeaways:
Keep your website up to date
Optimize for search engines
Integrate video content
Optimize for mobility
Level up content marketing
In today's digital landscape, your online presence can make or break your brand. People turn to the internet first when they're trying to find something, so failure to prioritize how you appear online means you're missing out on valuable connections you could be making.
Even if you have a website and post here and there on social media, you may not be doing all you can to engage and inspire. Improve your online footprint by following these five tips.
1. Keep your website up to date
Having a website is a step in the right direction. Top Design Firms data found that 28% of small businesses still don't have a website at all, so you're already ahead of the game.
But nothing is worse than a lead heading to a brand's website, only to find the content outdated. When you fail to update regularly, it sends the message that you're not actively engaging with the online world. Whether you haven't posted on your blog for a while, you have events from the past listed as upcoming, or the language doesn't reflect your current offerings and deals, outdated content will quickly turn off your audience.
They'll look elsewhere for products and services if they don't feel like you're staying relevant. Customers want to work with brands who are staying engaged with people online, taking the time to cater their website to what's going on. Today's consumers want to interact with brands, learn about products, and make purchases online with minimum effort, so an updated website is critical.
2. Optimize for search engines
The one place people turn when looking for something is the search engine, and mostly Google. To improve your digital footprint, it's important to pay attention to what Google wants. What does the algorithm look for? You want to be high on the search engine results page (SERP) so the right people can connect with your brand when they're searching for a product, service, or answer to a question.
You really want to get your brand on the first page of the results — 90% of people never look past that first page when conducting a Google search. When you're on that first page, it's easy to make a connection and inspire someone to find out more about you.
To optimize for search engines and increase your chances of getting on that first page, here are a few quick tips:
Use keywords in your content
Write for people, not search engines
Focus on creating valuable, relevant, well-written content
Use your location in content
Considering creating a Google My Business account and keep your profile updated
3. Integrate video content
An important piece of your digital footprint is the type of content you're posting. Video is the number-one kind of content consumers want to see from brands, according to HubSpot, and 86% of businesses use video as a marketing tool.
Videos are engaging, accessible, and help you tell a story about your brand. You can get creative with them and post them across your channels, including your website, social media, blog, YouTube, and more. In this way, you strengthen your online presence by reusing the same content on different platforms, making your time and money well-spent.
4. Optimize for mobility
Mobile is becoming the new normal for how people use the internet. Over half of web traffic around the globe is from mobile devices. People use their maps apps, search for and buy products and services, browse brands' websites, stream video, use social media, and communicate with businesses, all from their mobile devices.
This presents a huge opportunity for you to reach more people than ever with mobile. You just need to be sure that everything you post on all of your channels is optimized for these smaller screens. Consider factors like:
Breaking up long pieces of text
Text size
Image size and placement
Navigation options
Page loading speed
Link placement
View your content from the perspective of the mobile user, not just a desktop user. Some platforms will help you do this with your content before you post on your website or social media.
5. Level up content marketing
All of these steps will help you create a better online presence, but you need a strategy that will bring it all together and monitor it. How are all of your channels and content working together to create the right brand voice and attract the right people?
This requires a stronger approach to content marketing. You need planning tools like:
An editorial calendar
A content budget
A strategy for posting across channels
A writing, design, editing, and strategizing team
Plans for gathering feedback from customers
An effective way to gather and analyze content metrics
A content marketing strategy will help you combine and manage your efforts, so your brand shines online.
Work with Crewhu for better customer experiences
Crewhu is the first platform that combines employee engagement and recognition with customer service management. We help you create better strategies to gather feedback from customers and inspire your teams to increase productivity and create more valuable experiences. We understand how crucial these factors are to developing a better, more engaging online presence.
Contact Crewhu to learn more, or download our NPS Framework and Starter Kit to learn how to retain more of your existing customers.