Is Your Leadership Team Suffering From Manager Burnout?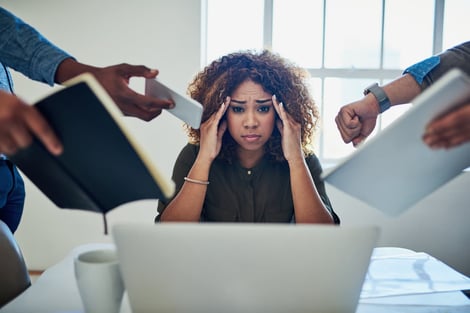 Just like any other employee, managers can suffer from burnout. Here are the signs to watch out for and the effects burnout can have on a company.

Key Takeaways:
Simply because they are leaders doesn't mean they are not human — the majority of employees in leadership positions suffer from burnout and stress
Employee burnout and manager burnout are similar, but they are not the same
Manager burnout is potentially more threatening to an organization because managers are tasked with leading people
Unless urgent action is taken, managers suffering from burnout typically lack the energy and drive to motivate the teams they lead
No matter who you are, what age you're at, or what you do, you've likely struggled with burnout in the recent past or are struggling with it now. The pandemic has stretched the very fabric of our work lives to the limits, and many employees are barely hanging on as they struggle with burnout.
But what about manager burnout? Not enough is being said about that, and some may even confuse it with employee burnout. Not enough attention is being allocated to the impact that the coronavirus has had on leaders and managers all over the workforce.
15 numbers you should know about manager burnout
Burnout among leadership is as real as among the general workforce. The truth is that everybody at your organization is feeling the pinch, from the founder/CEO to the rest of the workforce. Here are some numbers from WHO, Fortune, Gartner, and other stakeholders you should consider:
1. 66% of managers suffer from burnout.
2. 59% of managers feel overworked.
3. 76% of managers report being overwhelmed.
4. 72% of leaders feel heightened pressure to deliver.
5. 91% of managers struggle with working remotely, compared with executives and individuals.
6. 84% of managers internalize the fault for high rates of employee burnout.
7. 89% of HR executives report that while managers are expected to lead with empathy in a

hybrid workplace

, investment in said managers is floundering.
8. Junior and senior managers report being more productive while working at home, but only 60% believe they can effectively manage their workload.
9. 68% of Human Resource leaders report that the hybrid model brought responsibilities that overwhelmed managers and only 14% of companies are taking adequate action to mitigate the workload.
10. Managers are particularly vulnerable to burnout because of the high level of stress, responsibility, and expectations leveled on them.
11. In the past three years, burnout has become so widespread that the WHO has labeled it an "occupational phenomenon" in its 11th Revision of the International Classification of Diseases.
12. Nearly two-thirds of managers are acquainted with burnout firsthand due to the coronavirus pandemic, and 25% have considered leaving their jobs as a consequence.
13. The burnout epidemic is partly fueling the changes in the traditional office landscape: 75% of managers have said they would like to work from home at least part-time on a permanent basis.
14. Beyond the U.S., 61% of managers in the U.K. admit suffering from exhaustion and burnout since the onset of COVID.
15. Acco

rding to a

Gallup

survey, manager burnout is progressively

getting worse.
The causes of manager burnout
Now that we know how widespread manager burnout is, it's time to look at its underlying causes.
The first thing to note is the fact that manager burnout and employee burnout are not the same thing, though they may look the same on the surface. In fact, manager burnout can be said to be a more serious issue than employee burnout because this group is directly tasked with leading teams of others.
Managers – especially those in middle management – occupy a particularly precarious position where they have to look out for the interests of the teams below them while answering to the teams above.
It's a delicate balancing act they always have to be engaged in that likens them to candles that burn at both ends. As a means of coping with the demands of their position, middle managers avoid bringing their struggles to the top brass altogether even while they struggle with employee burnout underneath.
The inevitable result of catering to the needs of teams above and below them in the hierarchy is that managers are often too busy to cater to their own emotional, physical, and career goals. Their satisfaction and growth stall as they try to maintain the balance for everybody else.
Burned-out managers and their teams
So, what's the cost of manager burnout to companies and their teams?
Managers worth their salt want the best for their teams and look to support them as they go through the rigors of everyday work at the office and remotely. However, once burnout hits, their capacity to play this crucial role is greatly diminished.
How can you energize employees and take care of your team when you lack energy and motivation yourself?
It's tough to find the energy necessary for lending a helping hand to others when you have already hit the wall. Manager burnout leaves managers feeling depleted, and this feeling of emptiness affects other aspects of life and work.
Burned-out managers are overtired and under-exercised. They fail to pay adequate attention to their nutrition and are often disconnected from critical human relationships like family.
Unfortunately, the teams they lead pick up on this stress and struggle as it makes their own burnout situation worse.
Therefore, for the sake of managers and the employees they lead, companies have to allocate adequate resources to addressing manager burnout.
Learn how to prevent and solve manager burnout with Crewhu
Crewhu is the first platform to combine customer service management with employee recognition. Our solution makes it easy to prevent and solve manager burnout by using gamification, recognition, and employee rewards.
If you're in search of actionable tips on how to prevent manager burnout, read this guide: