5 Fun Ways to Reward Remote Employees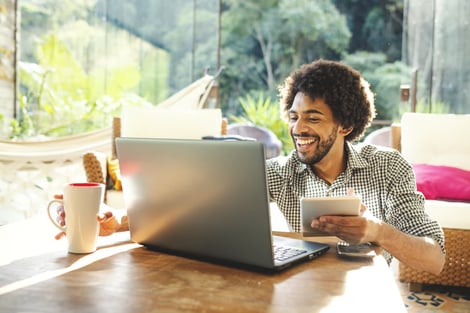 Are you looking for fun ways to reward your remote employees? Here are 5 simple tips to help you choose the best rewards for remote workers.
Key Takeaways:
Rewarding employees motivates them to give their best
Physical gifts show remote employees they're appreciated
Rewards aimed at the development of remote employees tell them you're interested in their growth
Entertainment gifts help remote employees de-stress and rejuvenate
Recognizing the achievements of employees on your social platforms can lead to loyalty and respect
Finding ways to reward your remote employees for their work can be tricky. For starters, since remote employees are often in different geographical locations and cultures, it might be difficult to gauge which rewards are appropriate. Besides, rewarding employees over the internet can seem distant and boring.
But not to worry. In this article, we'll share simple tips and ideas to make your next remote employee reward session the best you've ever had.
1. Send physical gifts
A thoughtful physical gift can show your employees how much you appreciate their efforts. Here's a list of physical gifts that might be great for your remote team:
Breakfast or lunch deliveries: Surprise your team with their favorite pastries or sandwiches.
Treats: There are tons of bakeries that deliver cakes, cupcakes, and cookies nationwide, and can be customized for your team with company logos, etc.
Company swag: But make it useful. Logo thermal mugs, water bottles, etc, are the perfect way to welcome a new team member or give a boost any day!
Potted plants: Plants are a great gift to send to employees working remotely. Succulents in particular have long lives without much care.
Gift basket: If you can't decide what gifts to send, you can create a gift basket. Pick different items based on your budget and include them in the basket. Add a handwritten note to give the gift basket a personal touch.
2. Create entertainment opportunities
Use entertainment packages to help your remote employees deal with stress. Working remotely can get boring because they don't get the chance to see their colleagues physically. You can improve this by creating opportunities for them to meet.
Let's look at some ways you can do this:
Tickets to shows: Whether you choose to give your remote employees tickets to concerts, sporting events, or comedy shows, you'll be giving them a much-needed break.
Experiences: If you've got a great reward program in place, the rewards can be available through earning "bucks" over time to get rewards both big and small. Consider helicopter tours, luxury car rentals, or boat rides they can share with family and friends. On the less extravagant end, days off, hours off, or the opportunity to watch someone shave their beard off also work!
Trivia and contests: Healthy competition between employees will strengthen their bond even more. This can be lunchtime trivia, virtual game days, or even creating a leaderboard for daily wins.
3. Purchase a wellness package
Although your workers are not commuting to work, they need rest and rejuvenation. So, why not reward them with wellness packages?
Let's look at some examples:
Beauty packages like pedicure and manicure treatments
Gym memberships
Spa appointments
Cooking masterclasses
Therapy sessions
Remember that your workers have individual personalities and may not appreciate specific wellness packages. Engage them in conversations to find out their interests if you don't know them already or provide a range of choices so they can pick a package that suits them.
4. Invest in their development
One of the best gifts you can give your remote employees is the opportunity to develop professionally. There are a variety of online courses spread across different fields, so there's a course for everyone. You can even offer classes that are beyond the scope of their work – make it open and let them explore their interests.
To encourage employees to take advantage of such opportunities, you can offer a reward for those who complete the online courses. In addition, you can make the online courses available throughout the year or during particular periods.
Online platforms with useful courses include Coursera and Skillshare. They offer a wide range of free and paid courses for your employees.
5. Appreciate them publicly
Recognizing your employees publicly can motivate them to keep doing their best. It makes them feel like they're part of a work community, and other employees will work harder so they can also be recognized.
When employees realize that you're eager to show how much you appreciate them to the world, it increases their loyalty to you and the company. Celebrate them on your company website and your social media pages. You can create a video about them or post pictures of their achievements or milestones. Encourage other employees to leave encouraging comments, especially on social media.
If you create a video, get their colleagues on board. Give other employees the chance to say what they love most about the one appreciated in the video. Public recognition for remote workers can be done monthly, quarterly, or yearly. Choose what works best for your company.
Crewhu can help with employee recognition
Are you looking for a platform that helps to generate revenue through employee recognition, online reputation, and more? Then Crewhu is your best bet. We make it easy for you to track, recognize, and reward your remote employees.
With Crewhu, you'll also be able to collect employee feedback to help understand your remote team. Book a demo today to learn how we can provide employee recognition programs for your company.