Top 5 Office Trends for 2022 and Beyond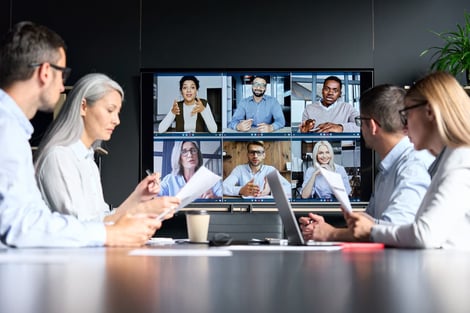 As the close of one year approaches, we look forward to the trends that are likely to define office culture in the new year.

Key Takeaways:
Shifts in workforce behavior can only be properly viewed through the lens of the coronavirus pandemic and its major effects like remote work
One of the most enduring trends is the decentralization of the workforce as most employers are adapting to the pandemic and employee demands by adopting a hybrid workforce
Digital transformation will continue to accelerate and determine the way employees work and relate with each other and their employers
Since the onset of the coronavirus outbreak, work trends and expectations have changed. Virtually no employers were prepared for their entire workforce to remain at home and start working remotely, but that has been the ongoing reality for the better part of two years now.
And this reality of remote work is set to continue because, according to Global Workplace Analytics, about 30% of the workforce will work remotely full-time by the end of 2021.
But remote work is not the only workplace trend to hold sway in these pandemic times. Employees all over the world are adopting flexible stances to better cope with changing workplaces and new trends. Here are five of the most important trends getting ready to define 2022:
1. The hybrid workplace and workforce
The hybrid model will continue to redefine the workforce for the foreseeable future. Many businesses are turning away from choosing any of the two extremes — to go with a fully remote workforce or have everyone show up at the office. Instead, they are going for a hybrid approach where employees can show up at the office on certain days of the week and stay home on others.
In the atmosphere of uncertainty ushered in by the coronavirus pandemic, the hybrid workforce model provides much-needed flexibility, sociability, structure, and independence. Even though some miss the office, the majority of employees admit to wanting a hybrid workforce model going forward.
2. Increased use of technology to meet the mental health needs of employees
One unfortunate fallout of the coronavirus pandemic is the mental strain inflicted upon the population as we fight against the virus and its spread. For many people, 2020 tops the list as the most stressful year of their lives because a constant feeling of anxiety hovered over individuals like a dark cloud.
Workers have been turning to technology for solace because of the stigma that exists around mental health. Employees don't want to be judged or second-guessed by co-workers for fear of being ostracized or losing their jobs. Many employees cannot trust their workspaces to provide the judgment-free, unbiased outlet they need to share their problems.
In response, many companies have already started the trend of leveraging technology to meet workers' mental health needs. For example, companies have bought corporate licenses for their employees to make use of health apps like BetterHelp, Virgin Pulse, Headspace, and others. These apps help workers with their mental health by way of meditation, staying fit, maintaining a healthy diet, 24/7 access to therapy, and other resources.
3. Workers are prioritizing safety, security, and health as criteria for choosing employers
Going forward, employees are going to expect companies to keep their facilities clean and communicate regularly about the status and safety standards of work conditions. Workers are going to prioritize "safe work environment" over the hitherto popular "opportunities for professional growth."
Due to this trend, employers that adhere to national and local safety guidelines will be more effective at attracting, recruiting, and retaining the best talent. Workers need to feel safe in order to feel good about the work they do.
Companies that take advantage of digital technology to ride this trend, such as using temperature detection to spot possible COVID-19 infections, will benefit the most.
4. Increased flexibility over when employees are expected to work
As companies adapt to the fact that employees will work more from home than the office going forward, they have to adapt to flexibility when it comes to when employees work.
The thing to take the most note of with this trend is the fact that it's going to develop and grow in influence very quickly. According to reports from Gartner's 2020 ReimagineHR Employee Survey, only 36% of employees at companies with a standard 40-hour workweek could be described as high-performing. As time goes on and location independence grows in popularity, flexibility concerning time is going to continue accelerating in order to meet up.
Organizations that offer workers flexibility over when, where, and how much they work already record 55% of their workforce as high performers according to that same Gartner report. As stakeholders start noticing these numbers, expect to see a sharp increase in jobs where employees will be measured by their output instead of an agreed-upon number of hours put in.
5. Companies to "rent" talent to fill in existing gaps
The number of skills companies are looking for in recruits has risen dramatically in recent years. According to another report by Gartner on strategies to address the skill gap, companies listed 33% more skills on job ads than they did in 2017. Companies need more from their employees to navigate these uncertain times, but they can't reskill their existing workforces fast enough to meet up with changing demands.
While you can always expect some companies to pay a premium for these skills when the need arises, other companies will choose the less costly option of using contract hiring to "rent" talent for the short period it's needed.
How prepared is your workforce for the future?
Are your current systems set up to ensure that your workforce feels recognized and appreciated for the work they do even in a hybrid work situation? With Crewhu's employee recognition software solution, it is easy to compile data concerning employee and management performance and use this data to recognize and reward outstanding performance. The prize automation solution in particular guarantees you'll see faster results from your employee recognition and reward programs. Schedule a demo with Crewhu today to learn more.