Recruit the Best Employees: How an Employee Engagement & Reward Program Helps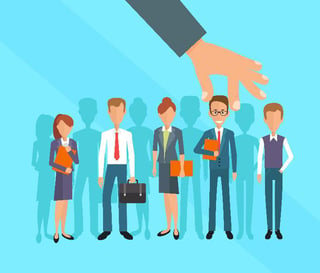 Do this and have your pick of top candidates
If you're looking for top talent, you're not alone. Today's highly competitive business environment leaves many companies vying for skilled workers. With so many opportunities available to them, the best employees have their pick—and it's going to take more than a good salary to recruit them to your company. This fact is especially true if you're looking to add tech savvy millennials to your team. So the question is, what can you do to differentiate your company from the herd?
Why should they choose you?
Ask yourself: What makes your company a great place to work? More importantly, what makes your company better than others in the same industry? If you're strapped for an answer, consider how engaged and motivated your workers are. Statistically speaking, those companies with highly engaged workers are not only more productive, they recruit and retain employees better than others and have a higher employee satisfaction rate. If you aren't doing anything to engage and motivate your team, you're not only missing the boat with the workers you already have, you're missing out on recruiting top talent.
Why you need an employee engagement and reward program
According to a Gallop poll, 87 percent of employees are not actively engaged on the job—so if your team seems less than excited to be working at your company, you're not alone. And those companies that have discovered the power of employee engagement programs are not just some of the top performing businesses in the world, they're the ones everyone wants to work for. So it only makes sense that if you're looking for top talent, you need to implement a program that rewards and recognizes employees.
How does it work?
CrewHu gets your entire team involved in reaching goals while allowing you to measure their performance and recognize and reward them for outstanding performance. Our program allows coworkers to challenge and recognize each other and for you to recognize top performers publicly in the Café, a social media style newsfeed.
Team members are motivated to achieve goals and see their progress in real time. Friendly competition to exceed goals is certain when they're able to see who's in the lead on the challenges they've accepted. Rewards are meaningful so each team member strives to earn redeemable points for their performance. Imagine the buzz your team will create among likeminded professionals who you may want to recruit.
Why it works
We all know that feeling appreciated is a basic human need—so it only makes sense that workers who are recognized and rewarded for their efforts would be more motivated than those who aren't. In fact, many people who leave one position for another do so because they feel under-appreciated. By recognizing and rewarding your team, you're not only showing how much you appreciate them, you're also enhancing your company culture and creating an environment where everyone has a stake in the success of the business. The result? More people want to be on (and stay on) your team.
The talent you seek will come to you!
Recruiting top talent becomes much easier when your company consists of happy, engaged and motivated workers. So if you're struggling to build a culture where people actually want to work, it's time to try CrewHu.
Topics: Blog