Experiences and Employee Recognition to Increase Your Employee Loyalty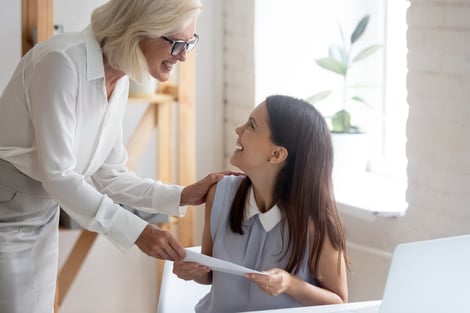 Appreciating your employees with experiences beyond physical rewards will lead to loyalty and employee retention. Here are some simple yet actionable tips.

Choosing employee rewards that will encourage engagement can be a daunting task. This is because you need to ensure that your employee recognition programs simultaneously align with company culture, boost loyalty, and appeal to your employees by combining fun, enjoyment, and excitement.
The right employee recognition plan can have huge, positive impacts on your business as well as your employees' lives. This guide will explore easy-to-implement ideas and tips that will help you build the best reward programs for your organization.
1. Conferences and seminars
Development programs such as conferences and seminars show employees that you're interested in their future. The educational experiences can be centered around their specific fields of work, but allowing your workers to choose any type of experience will enable them to learn new skills that may come in handy later. Some of the best seminars and conferences will be in leadership, business growth, digital marketing, and coding. The lessons your employees learn from these programs will become a part of their lives.
Feel free to add mentoring sessions to the package, as well. Employees value having people in the company they can go to for advice. It reduces the chances of frequent mistakes, improves job satisfaction, and creates a more positive workplace.
2. Incentive trips
Organizing and paying for trips for your employees – both for individuals and groups – can help reduce stress and burnout. Consider your employees' interests when planning to ensure the trips will be fun and exciting. If you're unsure if your employees will appreciate the trip's destination, conduct in-house surveys with location ideas and make a decision based on the responses. You could even put together a team of employees to ask for ideas or speak for the greater group.
Try planning employee rewards trips based on themes such as culture, nature, or sports to make it more interesting. Planned activities should promote teamwork and bonding. Field trips and group obstacle courses are great examples of team-building activities.
3. Spa appointments
Spa treatments are focused on relaxation and rejuvenation by nature. Sending your employees to a spa for a reward means they will return to work refreshed and motivated. They'll also understand that you care about their well-being, which will make them feel good about working for you. When employees are happy at work, it reflects in their productivity.
You can set spa appointments for individual workers or groups. Spa appointments don't have to cost a fortune, either, because you can choose a package that employees will enjoy that also suits your budget.
Gift cards to spas are another option for a great reward. They'll enable your workers to go for whichever spa treatments they prefer, whenever it's most convenient. It's important to keep in mind that sometimes the best reward is time alone.
4. Free tickets to shows
Whether it's a comedy show, cultural festival, or concert, your employees will likely enjoy some time out of their houses to have fun and enjoy themselves. The beauty of using free tickets as employee rewards is that there are nearly limitless options to consider – and you can set up as many events as you need to appeal to each personality type.
Some employees might enjoy art exhibitions, for example, while other colleagues might enjoy a concert. You'll achieve your aim if they have a good time, so you must consider their likes and interests.
5. Special celebrations
Remembering and acknowledging special occasions with your employees will show them that you take a personal interest in their lives. Celebrate birthdays, anniversaries, academic achievements, promotions, and other key moments. Encourage peer-to-peer recognition by getting other employees involved in the celebrations, since this will also foster stronger in-house relationships.
Making this a regular practice will increase employee engagement and loyalty, because they'll always look forward to the day you'll celebrate them for one occasion or another. And, celebrations at work don't have to be expensive. Remember, it's the thought that counts. Consider your budget and do what works for your company.
How Crewhu can help with employee recognition
If you're looking for that perfect platform that combines employee recognition and customer satisfaction, then Crewhu is here to help. We make it easy for you to track, recognize, and reward your employees, allowing you to focus on the other essential parts of your business while improving workforce engagement and retention.
Book a demo today to learn how we can provide employee recognition programs for your organization.