6 Ways Gamification Makes You a Better Employer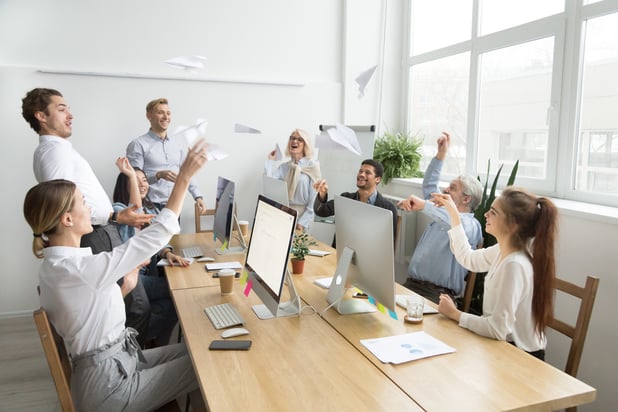 Gamification is an effective way to make work more fun and engage employees in learning like never before. You'll also improve your image as an employer. Here's how.
Key takeaways
How does gamification work?
6 ways gamifying makes you a better employer:
Boosts morale
Increases productivity
Shows appreciation
Makes the company more desirable
Reduces employee burnout
Strengthens relationships
Organizations of all shapes and sizes are gamifying their workplaces to better support employees. Gamification techniques can increase engagement and improve company culture, leading to more productive and satisfied teams.
Engaging digital experiences are becoming more and more important for both employees and customers, especially as many industries have shifted to remote working environments over the last year. Business functions like onboarding and e-learning have been transformed by gaming techniques, helping companies stay competitive and retain employees.
Gamification can also help you become an overall better employer. How? Here's a brief look at how gamification works and six ways you'll improve your image by gamifying your workplace.
How does gamification work?
Gamification is the incorporation of gaming techniques into workplace tasks, like training and digital learning. Techniques like problem-solving, competition, rewards, and storytelling keep workers engaged and motivated, and they're more likely to retain information learned in gamified experiences.
Gamification also encourages collaboration and teamwork, since employees often must work together to solve problems. And, activities can be customized so that each worker is able to learn at his or her own pace.
Examples of gamification in action:
Tracking top KPIs for each team via gaming
Improving the application process for candidates
Revamping onboarding programs with more exciting content
Creating new environments for team-building activities
Rewards programs for customers
Recognition and rewards contests for employees
So, how can gamification improve your image as an employer and make you a more effective leader? Take a look at these six ways these techniques will help you stand out to employees and new talent.
1. Boosts morale
When employees are engaged and excited by tasks, they're more satisfied at work. In fact, 88% of employees say that gamification makes them feel happier at work, and 83% of those who had gamified training say they feel motivated. When team members feel like they're working toward a goal within a game setting, they stay focused and engrossed in what they're doing.
2. Increases productivity
These same characteristics also lead to increased productivity. Most employees believe they would be more productive if their work were gamified (89%). Gamification incorporates tactics like giving rewards for reaching goals and recognizing small wins, which keeps employees on task and gives them a sense of accomplishment in their roles. Feeling accomplished is one key to maintaining and increasing productivity at work.
3. Shows appreciation
Many employees who are disengaged at work feel unrecognized and underappreciated. If they feel like there's no point to their daily tasks, they'll quickly become discouraged. Alternatively, if employees are engaged and feel like what they do matters, they're more likely to feel satisfied and purposeful.
Incorporating gamification in your organization not only boosts productivity but also shows employees that you care. When they're rewarded for doing a good job, that recognition means a lot to them and encourages them to keep trying their hardest.
4. Makes the company more desirable
A Talent LMS Gamification Survey showed that 78% of respondents felt that if gamification was part of the recruiting process at a company, it would make working there more desirable. As a company leader, it's important to prioritize ways to make your organization stand out as an attractive place to work.
Gamification is seen as fun and edgy, and will help you attract great talent. It shows that you prioritize the happiness of your workers and that you're aware of the latest workplace technologies.
5. Reduces employee burnout
When workers are more engaged, productive, and satisfied at work, they're less likely to experience burnout or prolonged boredom. Break up a normally tedious day with a quick game where employees can interact with each other and enjoy themselves at work.
Gamification keeps them happy with the company and their role, and they're less likely to become tired with their work and start looking for a job elsewhere. And, because the first days and months at a job are crucial to whether an employee stays a long time, incorporating gamification in onboarding can help you keep people from the start.
6. Strengthens relationships
Finally, never underestimate the power of a game to bring people together. Teams will become stronger when they have a place to work together and have fun doing it. They'll learn more about each other while becoming more engaged. When one worker becomes more productive at work, the entire department improves.
Gamification can also help you strengthen bonds between leaders and their employees. This is especially true if you incorporate flexible gaming techniques catered to each worker's specific needs.
Crewhu helps you leverage gamification
At Crewhu, we know just how effective gamification can be in improving your company culture. We help you incorporate gaming activities into your employee engagement initiatives alongside rewards systems, contests, feedback methods, peer-to-peer recognition, and more.
We recognize that company performance is directly impacted by employee and customer engagement, and we help you put those considerations at the forefront of planning. Our platform helps you show greater appreciation to employees, reward them for reaching goals, and set better goals for your teams.
Your workers may be working remotely right now, and Crewhu is here to help you keep employees engaged and motivated. Download our Employee Rewards Guide with the 3 Cornerstones of Employee Rewards to learn more about how to keep productivity high.
Topics: employee satisfaction, gamification at work, gamification and employee engagement