How to Motivate Your Employees to Succeed
Your employees are the key to satisfied customers.
Ensuring that your employees are happy and motivated is one of your most important jobs. Employee recognition programs are a popular way to reward loyal, hard-working team members.
There are 4 main reasons to start or improve your employee recognition program:
They incentivize employees to create the best possible customer experience.
They create a culture where everyone strives to make customers happy.
They can improve efficiency in the workplace so that everyone works smarter and communicates better.
They inspire enthusiasm and a sense of friendly competition among employees, creating a greater sense of engagement.
6 examples of employee recognition programs that work
Customer surveys
Surveys are not just a way to assess customer satisfaction. You can also use them to measure the quality of service provided by employees. Certain programs can be set up to reward teams or individuals automatically for meeting customer satisfaction goals. As a bonus, surveys also give you the opportunity to make changes and improve efficiency based on the feedback.
Peer recognition programs
Nothing feels better than being appreciated by your peers. You can empower employees to reward each other for a job well done, which can help increase engagement among your staff. You'll also create an environment that is supportive and encourages camaraderie as everyone works toward the same goal.
Challenges and contests
Nothing gets the blood pumping more than a little competition. Everyone likes to win something, and contests are a great way to encourage friendly rivalries. Set up challenges where employees can go head-to-head or compete in teams, with rewards that can include bonuses, gift certificates, a special dinner, and other prizes.
Anniversary recognition
It's not enough to hire the best talent. You must retain your best employees, and in this job market, it takes more effort than ever to keep them from moving on. Anniversary celebrations are a great way to reward loyal team members and inspire new employees to stay so they can experience the same rewards.
Social media campaigns
Social media is a great way to recognize your best employees on a bigger scale. Honored employees can be featured on Facebook, Twitter, Instagram, or any other channels you use. Don't forget LinkedIn, the most popular site for professionals. The good thing about this type of campaign is that anything you do is shareable, so it can go viral and turn into a good branding tool. It can also help with future recruiting. If others see that you respect your employees – and that your team members like being there – more people will want to work with you.
Special events and trips
You can show your appreciation by arranging special events to celebrate the success of the entire team or top performers. You can also recognize important days and milestones in the lives of your employees. These events can include holiday parties, birthday celebrations, company picnics/cookouts, luncheons, or Happy Hour at a local restaurant/bar. Top performers can also be invited to exclusive activities with the CEO or other senior management. For an even bigger reward, take all your employees – or select, top performers – on a short trip or treat them to a nice vacation.
Recognizing your employees is one of the best ways to encourage better customer service while helping to attract and retain employees. From collecting customer feedback to implementing goals for your staff, CrewHu has the tools to help you design the ideal employee recognition program. We offer customizable online surveys, peer recognition programs, goals-based contests, and more, so you can reward and thank your hardworking employees. Sign up for a free trial, so you can start or improve your employee recognition initiatives.
---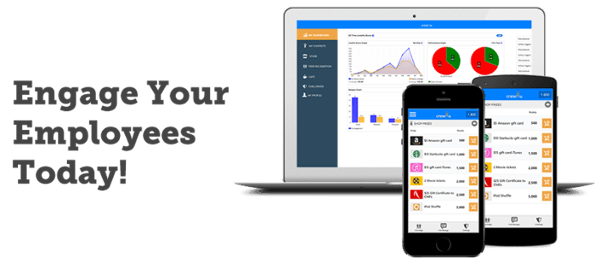 See what

crewhu

can do for you!
Sign up for a free 1-on-1 demo and discover how crewhu can help you become a badass MSP.
---
Topics: employee appreciation, employee loyalty, employee reinforcement