Remote Work Isn't All Sunshine and Rainbows – Here Are 10 Common Challenges That Come With It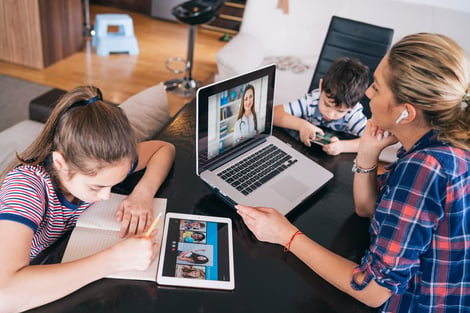 Remote work has been touted as the way of the future ever since the pandemic hit. However, it comes with its own set of challenges.

Key Takeaways:
Remote work is no longer considered a fringe HR policy but the new normal for workers all over the world
Remote work comes with many advantages, including lower overhead and increased productivity
Remote work comes with its own set of challenges that are sometimes not easy to see at the beginning
Remote work is no longer as rare as it used to be. In fact, even before the pandemic hit, studies carried out by the IWG 2019 Global Workspace Survey found that 3 out of 4 workers around the globe believe working like this is to be the new normal.
And there's plenty of reason why companies and employees feel this way. The remote work model offers many advantages, including flexible schedules, lower overhead, reduced commuting time, and improved productivity among employees.
Remote workers take fewer sick days, stay motivated for longer to do their jobs, and show higher employee retention rates. This suggests the obvious thought that people prioritize their freedom over office culture.
However, things are not all sunshine and rainbows where remote work is concerned. There are many challenges that come with it that organizations are sometimes not aware of before they embark on the transition towards a remote workforce.
10 challenges of remote work
Remote workforce challenges can be divided into those that affect teams and those that affect individual workers. Some of these challenges include:
One of the biggest challenges that crops up with remote working is managing projects when members of your team are not all seated in the same place. Whether the entire team is remote or you're dealing with a hybrid workforce situation, managers have a harder time making sure deadlines are met and goals are hit.
This is because communication is more difficult without a physical presence, making it more difficult to keep track of work that is being done. The more complex a project is, the more pronounced this problem becomes.
It can be a challenge communicating and collaborating from multiple locations. For example, how can a design team effectively collaborate on a single project when they are spread across the entire globe?
Things that are easy to take for granted in an office setting – like team members in the same office interacting with item, and documents while collaborating on projects – are often more difficult in a remote situation if not properly managed.
3. Tracking assigned tasks and measuring productivity
This is especially an issue when remote teams are working on complex projects. Accomplishing big goals on time requires the timely completion of little goals. However, keeping track of the progress of several remote workers as they work on these little goals can pose a challenge that jeopardizes the big goal.
In a remote setting, team leaders have to keep track of individual progress and the progress of the overarching larger project. Even the presence of technology only helps you know when a task is started and finished, but not how its progressing in real-time, which can be a real pain sometimes.
There's just no way to know how productive your remote teammates are while they are still working on the tasks.
4. Coordinating work from different time zones and locations
Remote work has tapped into the fact that the world is a global village to make it possible for companies to work with talent from all corners of the globe. However, the disadvantage is that having different team members working in different time zones can leave your team (and output) out of sync.
How do you coordinate a team that is always half-asleep – literally – for example?
It can be a challenge to coordinate a team that might never have all team members available when you need them.
5. Handling cultural and language differences
Varying levels of English proficiency and different social and cultural cues are among the things that members of a remote workforce have to take into consideration, especially if the team is scattered across the globe.
Workplace expectations in one corner of the globe could be (and often are) at variance with what expectations in another corner of the globe. This can lead to difficulties if these differences are not clearly understood and taken into consideration.
The less you see of people, the harder it is to build and maintain trust in your interactions with them. This is a fact of life that cannot be avoided where a remote workforce is concerned.
In a remote work situation, it is common to have two or more teammates who have never met physically, and as a result would have lower levels of trust between them.
All these realities make coordination and collaboration more of a challenge for remote workforces.
7. Improving productivity
Low productivity is one of the worst remote workforce challenges to deal with or overcome. When remote employees take too long to complete tasks for example, those tasks eat into their personal lives, making them less effective as workers overall.
Once productivity starts to drop, it can snowball into much bigger problems if the company or team leader fails to address the problem properly.
8. Eliminating distractions
Distractions can multiply when employees start working remotely. When working from home, a lot of stuff in their personal life and home settings can become distractions and obstacles to productivity.
Only remote workers and teams that are effective at time management are able to overcome these distractions and maintain productivity.
9. Remaining motivated while away from the office
It can be difficult to stay motivated and focused on work when there's nobody to look over your shoulder to supervise or coworkers to bond with. Without supervisors who are physically present, there's less pressure to get things done and workers may coast in ways that can only be considered human.
There is also the loss of team satisfaction that comes from achieving goals as a group seated in the same location. This means there's one less motivating factor to spur the remote worker on towards their goals at an adequate pace.
10. Unplugging at the end of the workday
One of the most subtle yet significant remote workforce challenges that the line between work life and home life can become blurred, making it hard for workers to unplug at the end of the day. Pretty soon, the feeling of never taking breaks starts to take a toll on worker productivity if not properly addressed.
Many companies find strategies to overcome these hurdles, including putting a heavier emphasis on employee goals, recognition, and rewards.
Contact Crewhu today for the tools to keep your hybrid workforce focused
Crewhu is the first platform to combine customer service management with employee recognition to make it easy to track, motivate, recognize, and reward employee performance in the office and out of it.
Are you looking to overcome remote workforce challenges? Check out our upcoming resource guide on overcoming remote workforce challenges for answers.