ConnectWise Metrics that Matter for Your MSP: Sales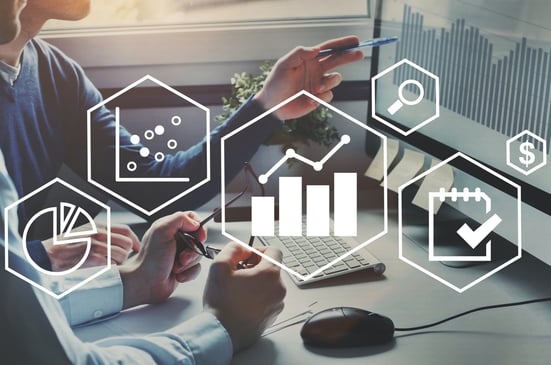 Sales metrics are some of the most important MSP benchmarks to measure business success. Here are the 16 most important sales metrics to track.

Key Takeaways
Sales metrics are connected to other business functions and can indicate important growth insights
The top sales metrics for MSPs:

Number of calls
Number of appointments
Number of opportunities
Number of opportunities won
Monthly recurring revenue (MRR)
Time to close
Average sale
Open opportunity revenue
Currently Open Sales Orders
Past Due Sales Orders
Stale sales orders
Open sales order amounts
Past due sales order amounts
Stale sales order amounts
Sales orders created in a given week
Ready to grow your MSP? You need the right MSP benchmarks to get you there. This means knowing which metrics really matter for long-term success.
Crewhu's integration with ConnectWise allows MSPs to set up contests for these 4 sales metrics that matter to track the effectiveness of your sales teams.

These metrics can be incorporated into gamification programs to incentivize employees to bring in more revenue.
Here are some other metrics that matter to measure your team performance. This guide will talk about one of the most important areas: sales metrics. Here are the most important sales numbers for your MSP to stay on top of.
Why do sales metrics matter?
Any MSP knows just how important the sales team is for growth. While sales is just one department within the business, they are the employees bringing in customers, and thus their efficacy and performance need to be monitored closely.
Metrics that matter for sales impact the business as a whole. They connect and interact with other key business metrics, like customer satisfaction, employee satisfaction, productivity, and financial metrics. It's thus crucial to have a strong grasp of where the sales team stands at any given time.
16 top sales metrics for MSPs
MSPs should keep a close eye on how the sales team is performing across daily, weekly, and monthly timeframes. Doing so will help you create a better recognition and rewards system to keep things moving.
Here are the 16 key sales metrics you need to be tracking and integrating into your processes:
1. Number of calls: This metric tells you directly how the sales team is doing with sales calls each day or week. Call metrics are one of the most important areas to track to hit MSP benchmarks.
2. Number of appointments: How many sales appointments is your team setting? This number could indicate performance issues.
3. Number of opportunities: Opportunity numbers tell you how many of those appointments are actually turning into real business opportunities.
4. Number of opportunities won: How many of those opportunities are closed because the business was won?
5. Monthly recurring revenue (MRR): MRR is a key sales metric that allows you to keep track of which services are giving you the best recurring revenue each month.
6. Time to close: How much time does it take the sales team or an individual employee to close a deal from start to finish?
7. Average sale: The amount of the average sale should be tracked closely, so you can make better future projections and understand how much each potential sale is worth for the business.
8. Open opportunity revenue: Revenue or potential revenue should be linked to each open opportunity so data can be measured based on each sales rep.
9. Currently open sales orders: You should always be able to view how many open sales orders each team member has at a given time. This number tells you their standing, if they have too many open orders, and how long it may take them to close a sales order.
10. Past due sales orders: How many sales orders do you currently have that are past due? This is a crucial metric for tracking sales order fulfillment.
11. Stale sales orders: Stale sales orders are those that have passed a specific period of time and are sitting in the pipeline. This metric helps you understand how many orders are not moving forward. When were they last updated? Which sales rep was involved?
12. Open sales order amounts: It's helpful to view the amount associated with each open sales order, and a total from all open sales orders, to see what's pending and how those open orders impact the business financially.
13. Past due sales order amounts: Similarly, you need to know the amounts on the sales orders that are past due.
14. Stale sales order amounts: How much money is associated with stale sales orders? You can then assess the dollar amount at stake.
15. Sales orders created in a given week: To assess procurement in a given week, you need to know how many sales orders have been created and who they're associated with. Also take a look at the dollar amount for each sales order.
16. Sales orders due in a given week: How many of the open sales orders are due this week? This means they will hopefully be resolved soon. If not, assess who is responsible and how many of these orders are moved to past due after the week is over.
Remember that these metrics can be measured for the sales team as a whole or for individual sales team members. If one of your reps is not hitting MSP benchmarks, you can uncover opportunities for additional training or tools. If the team as a whole is underperforming, it's time to implement gamification, contests, and rewards systems to motivate teams to hit targets.
How the Crewhu integration with ConnectWise helps MSPs
Crewhu is a recognition and gamification platform that helps MSPs focus on the right metrics with contests and rewards for employees. We combine customer service management with employee recognition and help you collect feedback the right way.
The ConnectWise integration helps MSPs track the metrics that matter, including 4 sales metrics, 12 help desk metrics, conversion rate, customer satisfaction, and more.
Contact the Crewhu team to book a demo of the number-one gamification and employee recognition platform out there.