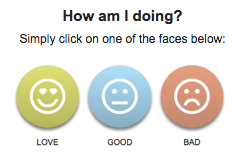 Set up your customer satisfaction rating snippet:
If you are reading this you probably deliver excellent and proactive customer service. You don't just take care of your customers but you go above and beyond to make sure your customer satisfaction levels are through the roof.
If your company uses Crewhu employee recognition software and your position has access to the customer service rating snippet, you will be able to collect customer service feedback easily and measure your customer satisfaction score over time. This blog explains how to attach the rating snippet to your email signature.