How Your Online Reputation Can Boost Your CSAT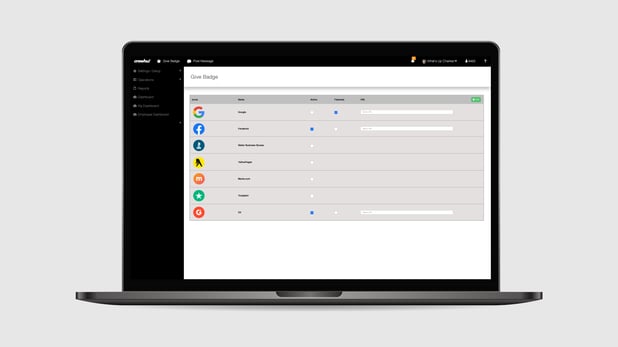 Your online reputation matters more than ever. When was the last time you focused on the way people view your brand? It's all connected to your customer satisfaction score.
Key takeaways
How is online reputation related to your CSAT?
Ways to improve your online reputation


Include reviews
Ask for testimonials
Collected feedback
Set up Google Alerts
Show empathy
Admit mistakes
Your audiences are online more than ever before, and it's becoming increasingly competitive and difficult for MSPs to stand out. You need the public support and praise of your clients to build immediate trust online.
One survey showed that 75% of B2B product purchases are made online, and 47% of buyers conduct web searches during the buying process. When buyers are deciding who to work with in these settings, they review content like social media posts and comments on Facebook, online reviews on Google, testimonials, and your brand's website.
It's crucial to start focusing more on your online presence and reputation. While measuring your customer satisfaction score (CSAT) is another important component of ensuring customer satisfaction, a good online reputation ensures that your brand is being seen in a positive way online and is more likely to attract new customers.
So, how are your online reputation and CSAT connected? And what can you do to improve your online reputation?
How is online reputation related to your CSAT?
It's important to understand the differences between online reviews and the CSAT survey. Businesses are reviewed on sites like Google, Yelp, and others, depending on the industry. Customers can say anything about their experience with your brand, the good and the bad, for all the world to see. And consumers pay attention to these reviews — 75% say that they trust a company more if it has positive online reviews.
With a CSAT survey, on the other hand, you ask customers a specific question about their experience interacting with the business, or how much they enjoyed a particular product or service. The information they provide is generally for your eyes only and gives internal insight into how you're performing and resonating.
It's not enough for your business to depend solely on online reviews. You need a format where you can get down to specifics and control what you're asking. Customers are also more likely to provide information when they're asked versus when they're left to leave a review on their own accord. General online reviews just don't give you the detail you need to understand an issue and make changes.
The key is to combine these two components to both improve your online reputation and track the CSAT, which is an important metric to always keep tabs on. While customer surveys are the better solution for targeted feedback, online reviews still hold value and can boost your online reputation in no time.
6 ways to improve your online reputation
Now, let's walk through a few ways you can start improving your online reputation and, in turn, boosting your CSAT.
Include more reviews
As already mentioned, online reviews are extremely effective in convincing consumers to work with you. Aside from the big reviewing websites, you may want to consider adding a section for customer reviews on your own site. Encourage satisfied customers to leave reviews and comments about their experience on your social profiles as well.
Ask for testimonials
A testimonial is slightly different than a review. Customers are asked directly by the brand to give positive feedback about their experience, and they're usually asked if their feedback can be posted on the company's website or social profiles. Asking for testimonials shows your customers that you value their opinion while giving you the opportunity to showcase success stories. Testimonials could be presented in a video or text format.
Collect feedback
Of course, it's always wise to collect as much feedback as you can from your current and previous customers. It's also helpful to survey those consumers who chose to go with a different company in the end. Ask about the deciding factors they use to make purchase decisions, how they found you, how they would compare you to competitors, how they would rate your online presence, and more. Sending a CSAT survey is effective, but including additional questions can provide insight into customer behavior and how you're perceived online.
Set up Google Alerts
It only takes a few seconds to set up a Google Alert for your brand. Go to google.com/alerts and enter the term you want to be alerted about (start with your company name). This way, if your brand is mentioned online, you'll be notified right away and can respond faster to any incident, good or bad.
Show empathy
Today's customers care about personalized experiences and genuine service from companies. This means showing customers that your team is made up of real, feeling humans goes a long way. When you are creating your website content or posting on social media, show your audiences that you care about what they're going through. Address the specific pain points that your products and services solve.
Another way to show empathy is to respond to reviews and comments about your company, even if they're negative. Show people that you're listening to them and take in their feedback. Empathy is instrumental in building a positive, authentic online reputation.
Admit mistakes
Companies can quickly get into trouble when something negative happens and they immediately get defensive. If you make a misstep or a team member makes a mistake, own it right away. Improve the company's character by admitting errors and showing your audience that you're willing to learn from them and move on.
Work with Crewhu to boost your CSAT
The team at Crewhu is committed to helping you. We give you the right tools to collect feedback, engage and reward employees, and increase customer retention.
Our platform helps you create an employee recognition program with peer-to-peer recognition, intuitive dashboards and leaderboards, and goal-based contests. When your workers are more engaged and motivated, the company as a whole improves, leading to greater customer satisfaction.
To learn more about how to improve your CSAT, download our guide, "The 7 Elements of a Successful CSAT Program."
Topics: customer retention, increase your CSAT, improve your online reputation