Tips to Proactively Manage Your Feedback and Improve Your Online Reputation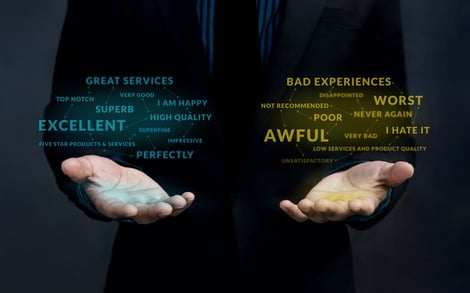 How you manage customer feedback can make or break your business. Read on to discover practical and easy-to-implement feedback management tips to boost your online reputation and get customers in droves.

So you've been encouraging customers to interact with your brand through reactions and comments. Well done! The best businesses love to hear feedback from their customers.
But customer reactions across a wide range of platforms can quickly get overwhelming and you might not know exactly how to manage them.
Not to worry. In this guide, we'll reveal secrets to help you proactively manage all your feedback across various platforms – from social media to review sites. Ready? Let's dive in.
Have an online reputation management strategy
An online reputation management strategy clearly explains what needs to be done when your company receives a comment from a client. It should cover the following:
Who is responsible for responding to customer reviews
Your style and tone when responding to reviews
A guideline on how to respond to both positive and negative reviews
How quickly a review should receive a response
For the best results, put together a well-trained reputation management team familiar with the ins and outs of handling customer complaints and finding solutions.
Monitor online reviews
Once you have an online reputation management policy in place, turn your focus to keeping tabs on your online reviews. As your customer base grows, your feedback across multiple channels is likely to increase.
For instance, the average business may have to track several comments on different platforms, including Google My Business, Amazon, Yelp, and TrustPilot. And, if you're consistently posting content on your blog and social media channels like Facebook and Instagram, you'll have to be ready to respond to a lot of comments.
To ensure you're not missing any reactions, analyze all your channels and see where the most reactions come from. You might be getting more comments on social media rather than on traditional review sites, for instance, so you'll have to adapt your online reputation management strategy.
To maximize your effectiveness, you can assign specific individuals to handle each of your channels so you don't miss a thing. For example, one group can focus on Facebook and Instagram while another group can focus on review sites.
You can also use reputation management software to keep track of comments and reactions on all your platforms. Such tools can track mentions and references of your brand and generate detailed reports.
Pay particular attention to negative reviews
Negative reviews may sound like the end of the world. However, such reviews are often excellent opportunities to improve your business.
For starters, negative reviews help you know exactly what your customers are unhappy about when it comes to your business. If you see a trend of complaints about specific products and services, it's time to make some changes. That way, you'll be able to prevent more unfavorable comments about your business.
Complaints about your business can also help you gain the trust of your customers. If you only have a slew of positive comments on all platforms, buyers might become suspicious and even think your comments are spam, or that they were bought and paid for.
In fact, many customers want to see some negative comments so they can see how you respond to them. If you handle negative comments well, new customers will trust you more.
When you receive bad reviews, don't panic. Instead, apologize and research the situation. Be sure to reach out to those reviewers and offer custom-made solutions. You can even offer incentives such as discounts and rebates to soothe customers' concerns. Once you fix the issue and have made the customer happy, politely ask them to update their comments.
Use customer feedback to improve employee performance
Reviews can help you improve your team's output, but it can be difficult to figure out how to do so efficiently. Fortunately, Crewhu can help.
Crewhu is unique because it's the only employee recognition and customer satisfaction platform built specifically for MSPs. We provide an easy-to-use system that helps you transform reviews into actionable tips to help improve your employees' performance. Book a demo to learn how Crewhu can help your business.