6 Dos and Don'ts of Customer Testimonials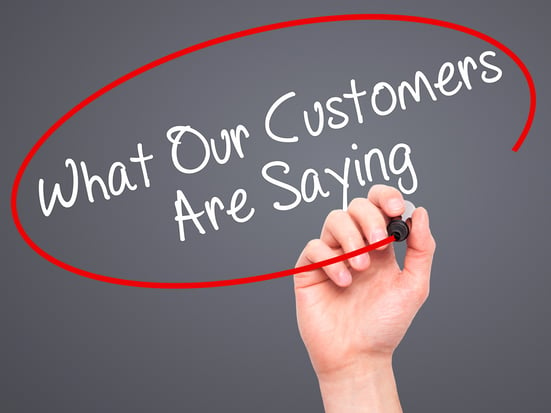 Managing your online reputation is more than website maintenance. Try using customer testimonials to show potential customers what you're capable of and stand out from the competition.

Key Takeaways
Customer testimonials allow you to showcase positive client experiences.
Make them easy to complete, personal, and tempting with incentives.
Don't wait too long to ask for testimonials and never be demanding.
Find the right type of testimonial and approach that works best for your brand.
In today's digital climate, your business needs a solid online reputation to keep attracting customers and continue growing. While components like social media presence, your website, and digital marketing are all pieces of the pie, you also need to show customers that you've had satisfied customers who are enthusiastic about your brand.
Customer testimonials allow you to highlight positive words and experiences on your online outreach channels. Approaching testimonials the right way will help you boost your online reputation, increase trust and credibility, and attract more customers.
What are customer testimonials?
A testimonial is a first-hand account of an experience a customer had with your brand or product. They may discuss the value of the product or service, the high-quality customer service they received, their happiness with the purchase, or other aspects of a brand interaction they found favorable. Clients who had a positive experience may provide feedback on their own, but many brands ask for endorsements or kind words that they can showcase online.
Testimonials help brands build trust and credibility that show potential and current customers that you've provided successful services in the past. Testimonials are essentially proof that you can do what you say you can do.
Building trust is more important than ever. Customers who interact with brands online are becoming more skeptical. HubSpot survey data shows that over half of consumers no longer trust companies they purchase from as much as they used to, and 69% don't trust advertisements at all.
That's why more potential customers are looking for online reviews and testimonials. They trust what other people like them have to say, and the words of previous clients can make a big impact on their decision to work with you or not.
While testimonials are fairly straightforward, there are a few important strategies to keep in mind that we'll cover in the next section.
6 Customer Testimonial Do's and Don'ts
The way you ask for customer testimonials will impact what people say, whether they're willing to do it, and how potential customers view them. Start with these dos and don'ts:
Do make it easy: Create a simple process so your customers won't have to jump through hoops to give you feedback. Send them a couple of questions or ask for a few sentences about their experience in a format they're familiar with, like direct message or email.
Don't be demanding: Never be pushy about a testimonial. It's best if you make it optional, so customers who are really excited about your brand or an experience will provide feedback when they feel passionate about it.
Don't wait to follow up: Timing is everything. You'll usually want to ask for a testimonial after the customer has success with your product or service. But don't wait too long. You want the experience to be fresh on their mind.
Do make it personal: It's best to send a personal message rather than an automated form when gathering testimonials. The latter may feel cold and detached to the customer. Make them feel appreciated so they will be excited to write something about you and continue supporting your brand.
Do make it tempting: Try offering an incentive for customers to leave a testimonial. Maybe they'll receive a gift card or discount on a product for taking the time to do it. This creates a win-win situation that will encourage them.
Do return the favor: Offer to return the favor and provide a review or testimonial to the customer. This is especially important if you are working with another business or business owner.
These dos and don'ts will get your wheels turning for implementing your own testimonial strategy. When you're ready to get started, it's important to create the right approach.
How to set up a system for testimonials
Before you begin asking clients for testimonials, there are a few more decisions to make. First, consider the type of testimonial that would work best for your brand. Let's look at four common methods that brands utilize in online spaces:
1. Satisfied customer
The most common type of testimonial comes from satisfied customers. They provide you with a few sentences of praise, and you post it in a "testimonials" section on your website. You may provide their photo, business name, or job title next to their quote so people can get a sense of your typical type of customer and that this is a real person.
2. Social media
Are your supporters talking about you on social media platforms? If so, pull these posts and highlight them to showcase your happy customers. Consumers love talking about their favorite products and brands on their channels, so pay attention when someone tags you or talks about you.
3. Video
Another common approach is video. Video testimonials can make your home page more dynamic. Visitors hear and see someone discussing their experience with you, which humanizes your brand. And you can share these videos on other channels, like email newsletters or social media.
4. Industry leader
Sometimes you may ask for testimonials from thought leaders or industry leaders who add credibility to your online reputation. Think about a leader related to your field who has supported you or worked with you in the past. Ask if they would be willing to add something to your website and offer to return the favor. This approach can impress and inspire potential customers.
You can use one or all of these approaches, just make sure you decide how you'll ask for testimonials. Will you send a form? An email? Who is in charge of following up with a client? Will you ask for testimonials from every customer or only those you know were satisfied?
If you also have online reviews on a platform like Yelp or Google, that could be a factor in how you approach testimonials. Some brands decide to pull those reviews onto their website to showcase exceptional experiences from past customers. You may decide to ask each customer for a review, a testimonial, or both.
However you decide to ask for testimonials, always be polite and respectful and show the customer you appreciate them providing feedback.
Do you need a platform for customer feedback?
One of the best ways to gather customer feedback and implement the right strategies is to use a platform that acts as your toolkit. Crewhu combines customer service management with employee recognition so real change can occur based on what your clients have to say.
Learn how to more effectively measure customer satisfaction by downloading our guide to a successful CSAT program.
Topics: customer feedback, customer testimonials, customer reviews, social media testimonials, video testimonials, client testimonials,