5 Steps to Start Your Employee Rewards and Recognition Program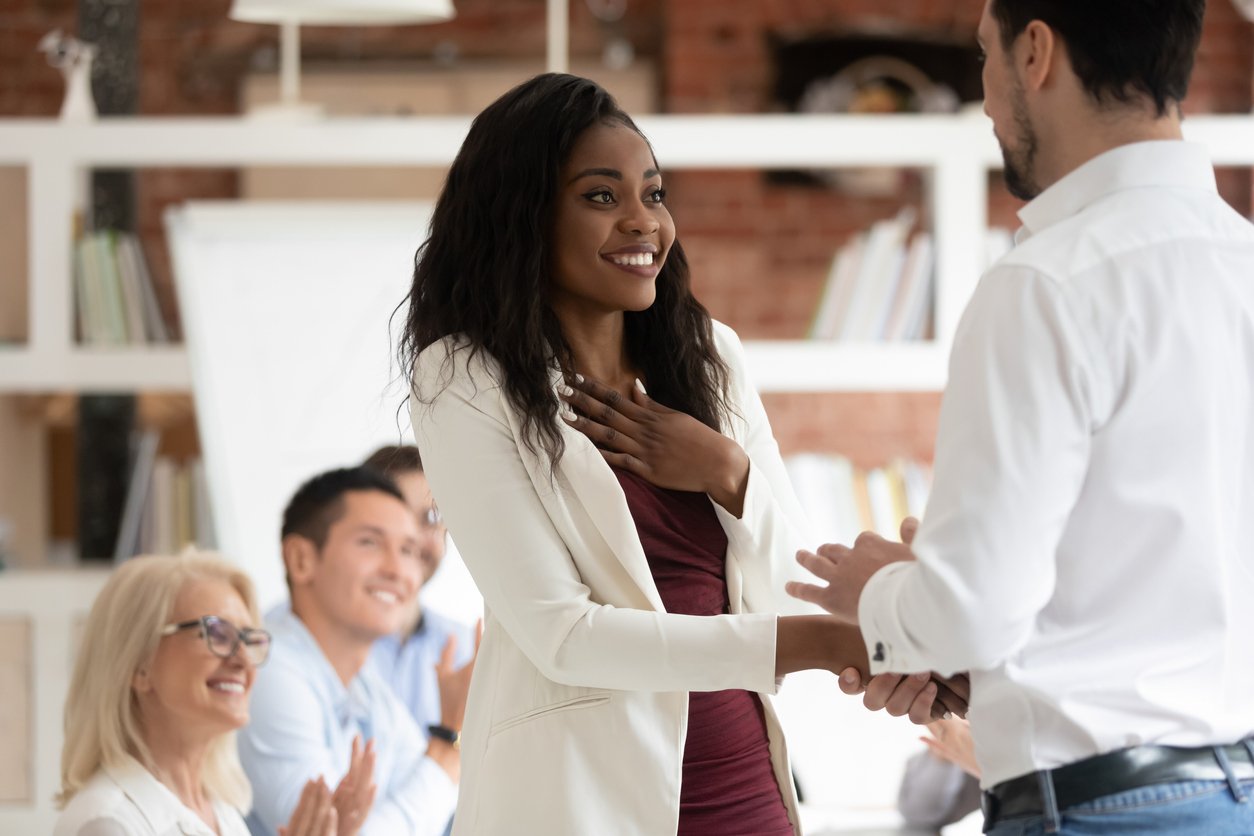 Your employees deserve recognition for all that they do, but a dedicated rewards program will also help your business grow.
Company culture should be at the forefront of business planning and decision-making. Employees who are satisfied at work and feel valued are more likely to stay at their jobs and contribute to positive company outcomes. One report from Salesforce showed that employees who feel their voice is heard are 4.6 times more likely to feel empowered and motivated to perform their best work.
One way to increase employee satisfaction and overall company culture is to implement a rewards and recognition program. These programs show workers how much they're valued and keep them motivated toward the next goal. But how do you start a program from scratch?
Key takeaways from this article include:
Benefits of a rewards and recognition program
Methods for recognition
Steps for setting up your program
Benefits of employee rewards and recognition programs
Disengagement is a big problem that many organizations face. Employees who don't care about what they're doing are less motivated and can become unproductive and unsatisfied at work. On the other hand, highly engaged business units have been shown to raise profitability by 21%, increase customer ratings by 10%, and increase sales by 20%.
Recognizing and rewarding employees for their accomplishments keeps them moving toward a goal. It gives them an incentive to care. Contests and gamification techniques encourage friendly competition, which increases focus and motivation. And all these results lead to greater employee satisfaction and less turnover.
When workers are more engaged, they're more productive. And more productivity means that team and company goals are being met and the business stays on the path to long-term growth.
Methods for recognition
To work, your program needs to offer rewards and recognition methods that your employees actually want. Think about what drives them. What would make them feel extra appreciated? Here are ideas for both recognition and rewards:
Monetary: Who doesn't love cash? When a target is hit, offer a wage bonus or a gift card so workers can treat themselves.
Public: Sometimes, all that employees need to get a boost is public recognition of their accomplishments. Dedicate a blog or social media post to showcase a worker who has gone above and beyond. In a meeting or company-wide email, give recognition to the employee who won a contest.
Gifts: Think of small gestures you can give to employees for meeting a goal. Fun examples include an experience like a short weekend getaway or an object like a smartwatch. Remember to cater the reward to the audience.
Another effective method of recognition is allowing peers to recognize each other directly. Encourage employees to give each other feedback and to publicly recognize one another using a platform like Crewhu, with ongoing discussions that managers can also take part in. This fosters team building and helps everyone stay accountable.
5 Steps for setting up your program
If you don't yet have an employee rewards program in place, or if the one you do have isn't having the desired effect, here are five steps to start an employee rewards and recognition program that works.
1. Set goals for the program: Before you start your program, nail down specific goals. Why are you creating this program? What problems currently exist that you want to solve? What will success look like? Think about the kinds of behaviors you're rewarding — these are the behaviors that you want to reinforce with the rewards program.
2. Come up with a budget: There's a lot you can do with a recognition program, but your budget will determine how much you can put into contests and rewards, as well as the methods you'll use to track progress, like platforms and software. Remember that investing in this program can lead to big payoffs.
3. Decide on the frequency: How often will your contests occur? Consider how regularly you can give out rewards. Frequency will depend on your goals (short- or long-term?) as well as budget (how many rewards per month or per quarter can you afford?). There may be several initiatives running at once within your program. For example, one contest to track customer service response times could be weekly, while rewards for hitting a quarterly sales goal would only be given out every few months.
4. Think about the three Rs: When you're planning how your contest will work, consider the three Rs: rule, routine, and role. How will an employee win? What process is being measured for them to reach the goal? Which employees will participate? Which teams?
5. Find the right reward: After you can define who will be rewarded or recognized, how frequently, and for what target, you can decide what kind of prize relates to the task. Sometimes simply creating a leaderboard, where employees can compare their performance and try to get to the top of the list, is effective in increasing motivation and a sense of competition.
When you need a platform that empowers your company to reward and recognize employees, Crewhu gives you access to automated tasks that do just that. Recognize employees publicly in the Crewhu Café, create exciting goal-based contests, and collect feedback to keep improving. We offer the first platform on the market that combines customer service management with employee recognition.
Schedule a Crewhu demo today to get started.
Topics: Company Culture, Employee Rewards Program, HR Platform