3 R's of an Effective Employee Rewards Program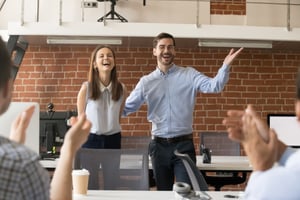 Keeping your customers happy starts by keeping your employees happy.
Follow these three R's of an effective employee rewards program.
Everyone from Peter Drucker to Herb Kelleher to Simon Sinek emphasized this point that you can't have happy customers if the people who are serving them— the employees— aren't happy themselves. And happy employees pay you back. They are more engaged with your customers and that results in a 20 percent increase in sales.
So if you want to retain customers - and that's the focus and priority of almost every company during the coronavirus pandemic- then you should invest in creating an environment where employees want to work.
From executives to front-line employees, there is great value in everyone on the team using awards to recognize the right behaviors and the people working hard behind the scenes. Awards can be used to:
Keep Employees Engaged (High Utilization Rates)

Give Valuable Insights into Business Operations

Encourage Desirable Behavior

Motivate Employees to Work Hard

Inspire Employees to Grow Professionally
But how to do it? Where to start?
If you want to keep your team productive and effective, you need to create and invest in your employee rewards program.
The three R's of an outstanding employee program are:
What to reward for- Rule

How are you doing that - Routine

Who is doing that - Role
And we at Crewhu will help you with that by providing our example of an outstanding employee program— one that includes badges, allowances, and "bucks."
You do what you track. You improve what you measure.
An effective employee rewards program means that you need to have the right incentives to rewards the behavior you want more of.
So an employee reward program will reward the specific behaviors you want more of in your culture. For example, at Crewhu, we reward our employees on the following attributes:
Team work

Humility

Knowing your stuff— knowledge

Going above and beyond
Our employee rewards program is based on rewarding more of these behaviors in the company.
Your specific MSP culture will determine what you need to focus on to keep your employees happy, keep customers coming back for more, and have productive teams.
But it's not just what you measure in the company— it's how you measure it.
How to measure what matters
So you're an MSP and you've decided what kind of behaviors you want more of in your company. How can you actually do it?
The way that we do it at Crewhu is through badges. We have a software called "Crewhu Badges."
If a person exhibits the behavior of "team work," they receive a badge for that.
The badge has multiple purposes:
You know that you did something right because you received a reward for that action— a reward/badge

You received a public display of recognition for a job well done and it serves as a positive example for everyone else in the company— it's public and visible.

You reinforce the behavior that was just shown by giving a reward for it— we want more of this kind of behavior.
Badges can come in different sorts and they must be public.
As an MSP you can give badges for innovation, impeccable customer service, relentless improvement of an employee, and a sense of urgency (the employee jumped on a problem and solved it quickly).
And there is one more thing that you need for an effective employee rewards program— who is giving the rewards.
Who is giving out the rewards
It's not just the manager's job to give out badges and rewards— other employees need to do that as well.
Because employees want to be respected by their peers— people with whom they work with day-in, day-out.
And not only is that good for employees who receive rewards, but also for employees who give out rewards.
They create a sense of ownership for giving out badges and rewards and it's not just "some manager' game," it's something that the employees are responsible for as well.
You can create different sets of badges, one that is used at the employee-to-employee level and one that is used at the manager-employee level.
A couple of badges that managers could give out to employees can be:
Superstar— The employee is literally being a superstar employee

Initiator— The employee is doing tasks that aren't assigned to them because they recognized that it would help move the company forward.

Loyalty— The employee has been a part of the company for so long that you want to acknowledge them for their commitment.

Inspiring— The employee is inspiring and motivating everyone around them and their positive attitude is contagious.
You can use these and many more badges with Crewhu's employee recognition software, "Crewhu Badges."
Our point system at Crewhu is called Bucks. It's based on a penny point system, where 100 Crewhu Bucks is equivalent to $1.00.
Every profile has it's own budget - allowance - and it's the following:
30,000 Crewhu Bucks ($300)

10,000 Crewhu Bucks ($100)

2,500 Crewhu Bucks ($25)
All profiles can awards bucks to the entire Company. Not only are you all on the same team, but this process helps break down silos and creates a culture of inter-team collaboration.
And there is nothing better for the company's growth than all of its teams working together.
To help jump start your employee rewards program, we created a checklist exclusively for businesses to make sure your program is effective and productive. You can download it here for free. And why don't you try out Crewhu for FREE!
Topics: employee recognition, employee engagement, employee retention, employee productivity, peer recognition, Employee Retention and Satisfaction