How Customer Reviews Boost Your SEO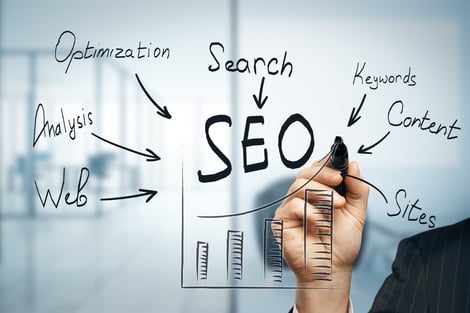 Customer reviews aren't just for show. They can boost your SEO rankings and drive traffic to your website. Read on to learn how reviews can be a gamechanger for your SEO efforts.
Key Takeaways:
Search engines consider reviews when determining your search rankings
Reviews can improve your local SEO rankings
Reviews are a rich source of long-tail keywords
What SEO strategies do you use to boost your website's traffic? Content marketing? Targeting keywords and featured snippets? Optimizing images? While all these tactics can help your search engine rankings, there's one many digital marketers ignore: customer reviews.
True, reviews help prospects learn about your business and build trust in your brand. But search engines also use these reviews to decide your content's search engine results pages (SERPs) ranking.
In this guide, we take an in-depth look at how customer reviews can give you an edge over your competitors.
Search engines see customer reviews as valuable content
You might think of reviews as a collection of insightful client comments, but they are also valuable content for search engines. Unlike blog posts, which are usually full of praise for brands, reviews are user-generated and unbiased, making them more reliable and trustworthy.
Search engines crawl your website to see the kind of content you're creating to determine your search rankings. Take Google, for instance. The popular search engine uses search quality guidelines, including the E-A-T model, to rank content:
Expertise
Authoritativeness
Trustworthiness
The good news is that customer reviews check those boxes. A customer who has used a product or service is in the best position to talk about it. And because customers are generally under no obligation to say good things about a product, Google trusts their word.
Each time a customer leaves a review, Google's algorithms crawl the content to get a clear picture of what your business is about and how customers feel about it. In general, search engines look at the following when it comes to reviews:
Review volume: The more reviews you have, the higher your chances of getting a good spot on SERPs. A large number of reviews mean your business is active and generating interest from clients.

So a business with thousands of reviews spread across several reputable review sites will likely rank higher than a business with a few reviews on just one review platform.
Review length: Search engines prefer longer, detailed, comprehensive reviews. In other words, if most of your reviews are short and lack detail, search engines may not place a premium on them. Encourage your clients to leave detailed reviews.

Rather than them saying, "great service," nudge your customers to explain what made your service exceptional. You can do this by commenting on short or incomplete reviews and asking for more details.
Review timing: Search engines often crawl pages to see if a business is active. The indicator that a business is running and serving clients is usually fresh content. That's why companies that have fresh and frequent reviews stand a better chance of ranking well.
Review sentiments: Search engines like Google pride themselves on being able to give customers the best recommendations, often using the business ratings on review platforms to determine if the business is worth a top spot in search results. For instance, if your business has a five-star rating, you'll probably rank higher than a competitor with a three-star rating.
Reviews help with local SEO
If you've searched for a product or service near your location, you probably noticed that Google displays three top local businesses based on Google Maps. This result is known as the "Google 3-Pack Rating" or the "Google Maps Pack."
For each listing on the Maps Pack, you'll find information and contact details about the business, as well as the number of Google reviews. And every listing comes with an average star rating. If your business has a lot of high-quality reviews and an impressive rating, you stand a good chance of landing on the Maps Pack.
According to Google, "Review count and score are factored into local search ranking: more reviews and positive ratings will probably improve a business's local ranking."
Reviews provide long-tail keywords
Long-tail keywords are search queries or keywords that are longer and more specific than generic keywords. Although they often have lower search traffic, businesses stand a better chance of ranking for them. A typical long-tail keyword would be three to five words long.
Fortunately, customer reviews are an excellent source of long-tail keywords. As clients leave reviews about your product or service, you're likely to begin to rank for specific keywords you may not even know about.
Do negative reviews impact SEO rankings?
It depends. One negative review shouldn't sink your business. But if the negative reviews are frequent, it will impact your ratings, and search engine rankings will take a nosedive.
Fortunately, you can use negative reviews to your advantage. First, negative reviews can make your brand feel human. People and search engines are often suspicious of businesses that don't have even one negative comment. It could mean that the business is paying people to write reviews.
Plus, negative reviews help open lines of communication with clients. Start by acknowledging and apologizing for any inconvenience the customer may have suffered. You can ask for further details if the client's issues are not clear. Contact the client and address whatever issues they have. And use the client's concerns as an opportunity to review and make necessary changes to your product or service.
Tips for collecting quality customer reviews
Clearly, gathering customer reviews is key to your SEO efforts. But how do you get your customers to leave reviews? Here are some simple steps to follow:
Set up accounts on relevant review sites. Top review platforms like Google and Yelp are no-brainers, but also consider platforms specific to your industry.
Respond promptly to reviews, whether negative or positive.
For negative reviews, be sure to show empathy and quickly address the concerns your customers raise.
Your employees are at the heart of your business success
Whether you're a product-based or service-based company, the kind of reviews you get depends largely on how your customers interact with clients.
Fortunately, Crewhu can help you combine customer service management with employee engagement to ensure you get positive customer reviews in the long run. Schedule a demo to see how Crewhu can improve your workflow and get your business ahead of the curve.