What Is a Quality Review and How Do You Get More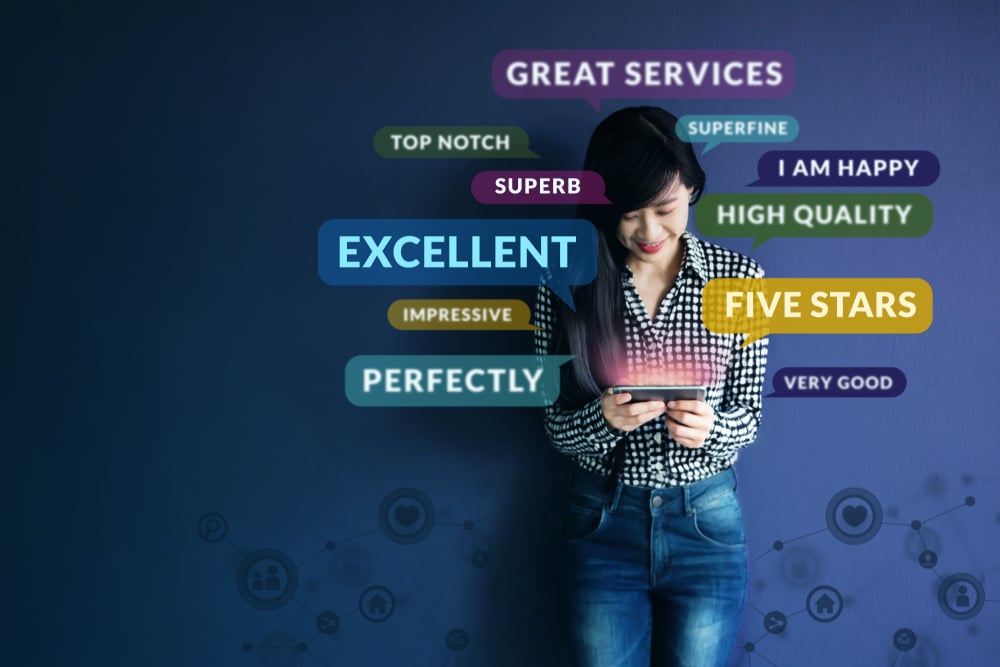 By now you should have thousands of reviews, right?
Some people make getting reviews sound easy, while the rest of us know it's one of the hardest things to do. Getting quality reviews is even harder. They're like finding gold when you're just looking for silver. If there was only a way we could cultivate better reviews from our customers, then we would have enough proof to keep the phones ringing with new leads and eager prospects.
Key takeaways:
What a quality review is
How a quality review is different from other reviews
How to tell a quality review when you see it
How to capture more of them
What is a quality review?
All reviews are great to have. Even bad reviews benefit your company by giving you a look at the customer experience. However, not all reviews are created equally. Some reviews may only be a couple of words, while others may be a sprawling essay on something that doesn't really relate to your product or service. How do you know a quality review when you see one?
Quality reviews get to the point, but they also give enough details that future customers won't be left guessing about the customer experience. We want to make sure it's professional, so that means it offers criticism and advice that's not attacking the company, and it's as free of errors as possible.
The review shouldn't ramble. A bit of backstory about why the customer sought you out is OK, but we aren't looking for a life story either. A sentence or two about why they needed your services will suffice.
It's also timely, which means we know when their interaction with your company happened.
Not a quality review: "These guys rok…"
Quality review: "My internet went down last week, and no one at the office could figure out what was going wrong. I called My Favorite IT Company Ever and had the pleasure of speaking to Mike. Mike was professional, personable, and instantly put me at ease. From the moment he picked up the phone, I felt that he had the knowledge to handle my issue. He was able to tell me what the issue was, and that he would send a technician out within the hour. Bret arrived quicker than I expected, and within 20 minutes, he fixed the issue fixed and had the office back online. My Favorite IT Company Ever has just earned my future IT business."
How to gain quality reviews
So, what's the secret formula to getting more of these kinds of reviews? All you have to do is ask. Of course, that doesn't mean everyone you ask is going to leave the review you want or any review at all. But asking is part of the equation. You have a little more work to do:
Ensure you're giving the best customer experience possible
Know the kind of review you're looking for, and guide the customer through the steps without being obvious
Know when and how to ask
Make the process simple for the customer
Great customer experience should go without saying, but if you want a quality review, then you have to ensure every step of the process is impeccable. Don't ask for the review too soon, because that will make it look like you're only hunting for a review. Instead, take some time to build a rapport with the customer before asking for a review.
Knowing the kind of review you want and making the process simple for them can go hand in hand. Some companies create a template review for each customer, so all their busy clients have to do is fill in the blanks and post it. Another way you can do it is by providing key information with your request. Make sure they know your name (if you're building rapport, they will already know this), make sure you repeat the issue they had, how you solved it, and how long it took.
All these aspects are important, but the most important part of getting great reviews is making the process simple. A lengthy, more difficult process will lead to fewer reviews for your company, no matter how great you treat your customers.
At CrewHu, we love seeing businesses flourish and doing more with the resources they have available to them, like their employees and their customers. Our blog offers great tips on keeping great employees and our customers as happy as they can be. Stop by our blog and check out the advice that could change your company!
Topics: Customer Service, customer feedback, customer satisfaction, measurement, Establishing value, Customer experience, customer focus, Net Promoter Score