'Pursuit of Employee Engagement and Utilization' Recognition Awards
Go-Getter Recognition Award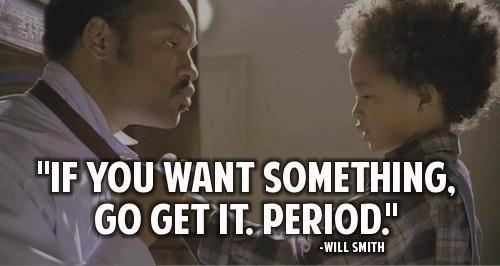 In the Pursuit of Happyness, Will Smith's character, Chris Gardner, is the perfect example of a Go-Getter. Chris is chosen to participate in a highly competitive, nonpaying internship in which only one of 20 participants is offered a job as a stockbroker upon completing the internship. While participating in the internship, Chris is homeless, loses all his money, all while raising a child as a single parent, and trying to sell out the rest of his 'Bone Density scanner' inventory (in which he was heavily invested), needless to say, Chris is broke.
Multiple times during his internship (even before, while he was still interviewing) Chris is asked for a couple dollars from his supervisors. While $5 is nothing to them, it was everything to Chris. And he gave up that money, to help his boss get to a meeting on time. Chris made a personal sacrifice for the greater good of the company. While his supervisors did not realize the serious impact that $5 had on Chris's life, they did appreciate his help and by showing their appreciation, Chris is even more motivated to work hard for the overall success of the business.
Team-Player Recognition Award
I've Got Your Back Recognition Award
Do your employees have each other's backs? Are you employees willing to put themselves 'out there' for their colleagues? Another way to encourage teamwork, and trust, in your business, is to give the 'I've Got Your Back' Award. When your employees are willing to take a risk for other team members, it means there is a certain level of trust, within your organization, that employees have for one another.
Trust is an important value to any business relationship. As trust grows within your teams, your trust for your team, and their work, as a whole will grow. This trust will help you avoid micromanaging minor issues which can be solved by your team, thus helping you become a better manager. Encouraging trust and reliability in your office will allow you to focus on bigger picture problems, while enabling your teams to focus on their responsibilities with little oversight.
Conclusion
Topics: employee recognition, employee engagement, recognition award