What to Do When You Feel Like You've Hit a Ceiling of Revenue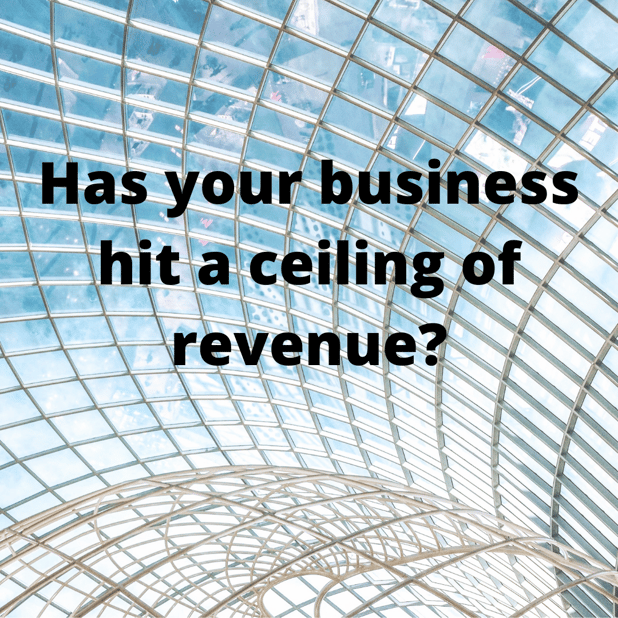 Do you feel like your business has hit a ceiling of revenue that you can't break through? Scaling your business isn't always as instant as you want it to be. If you've seen your revenue plateau, and you're no longer making progress toward growth, it can feel like you've hit a revenue ceiling that you just can't find your way over.
You won't be able to make progress if you don't evaluate existing key performance indicators (KPIs) within the business. You may find that you need to implement new measurements to track and improve business performance. And your everyday operational processes must support and respond to these KPIs. It's an ongoing progression that should receive continuous attention and focus.
KPIs work for your business because they:
Help you understand your business's strengths and weaknesses
Show you which measures directly impact which business areas or departments
Provide valuable insight into your customer success metrics (retention, conversion, acquisition cost, etc.)
Drive decisions with concrete goals and objectives
Align teams across the business on company goals
Create employee awareness of their specific role in business progression and success
Owners and Executives
When running a business, your most important goal is to continuously meet and improve revenue goals by establishing an effective organization with a set of clear missions. Every part of your organization needs to be working towards revenue goals and you need to be able to track and improve all performance. To successfully do this, you need to be able to answer the following questions first:
Where do you place the most value in your organization?
What measurements do you currently have in place?
Where are the biggest gaps in business knowledge?
What are the benchmarks you use to measure success?
What are your most important business goals?
Are your current KPIs truly aligned with these goals?
When you discover these answers, you'll understand how to improve your business and spur growth. You'll understand how to increase organization value by having the right people and resources in the right areas. You'll also understand points of weakness and strength.
Setting benchmarks requires an understanding of current industry standards. With this information, you can gain valuable insights about how you're performing. But it also gives you the power to set internal targets that drive motivation and productivity which directly correlates with increased revenue. As benchmarks are met, KPIs can be updated accordingly. Your business will not only accept and embrace change, but it will also keep improving upon what it's already accomplished.
Setting business goals first requires an understanding of which areas need the most support and process overhaul. KPIs must always align with business goals and priorities. Each department, team, and individual employee should have their own KPIs to work with, whether sales, leadership, operations, or marketing.
Both benchmarking and goal setting are crucial for your business to move its bottom line.
Service and Operations Managers
Managers and directors should continuously work on improving teams and workflows with KPIs. Remember that every single part of a business should contribute to revenue and should constantly work on self-improvement to aid in effective and efficient revenue generation. KPIs should be established for every team in an organization so that goal setting can be less objective and more significant. Tracking key performance metrics should be able to tell you:
Which processes are working and not working
Where the gaps are and more training is needed
If the team uses best practices
Where a new process or workflow is needed
Whether employees are motivated and engaged – and if you need to coach them through it
If goals are being set and hit consistently
How to improve your conversion rate
For both executives and managers, these considerations must be addressed before you'll see any forward movement. Establishing attribution through KPIs is necessary so that optimization and improvement can occur. This will help track the information and data required to understand what actions need to take place for revenue to be impacted. When you feel like your revenue has hit a ceiling, these are the first places to analyze and assess existing processes and start implementing change using KPIs.
These considerations are crucial in your ability to link KPIs to processes. The lack of processes are the silent killer to KPIs, and without processes, your KPIs won't help you improve and grow your business.
At Crewhu, we practice what we preach. We've created processes that connects our people with our customers, going beyond our platform. Crewhu makes it simple for you to track and collect customer feedback with our one-click survey, as well as provide employees recognition when they excel.
Get in touch with our team to start your free trial today.
Topics: customer retention, KPI, Lack of KPI, Feedback process