Getting Back to Business: Resetting Goals and KPIs as Your Business Reopens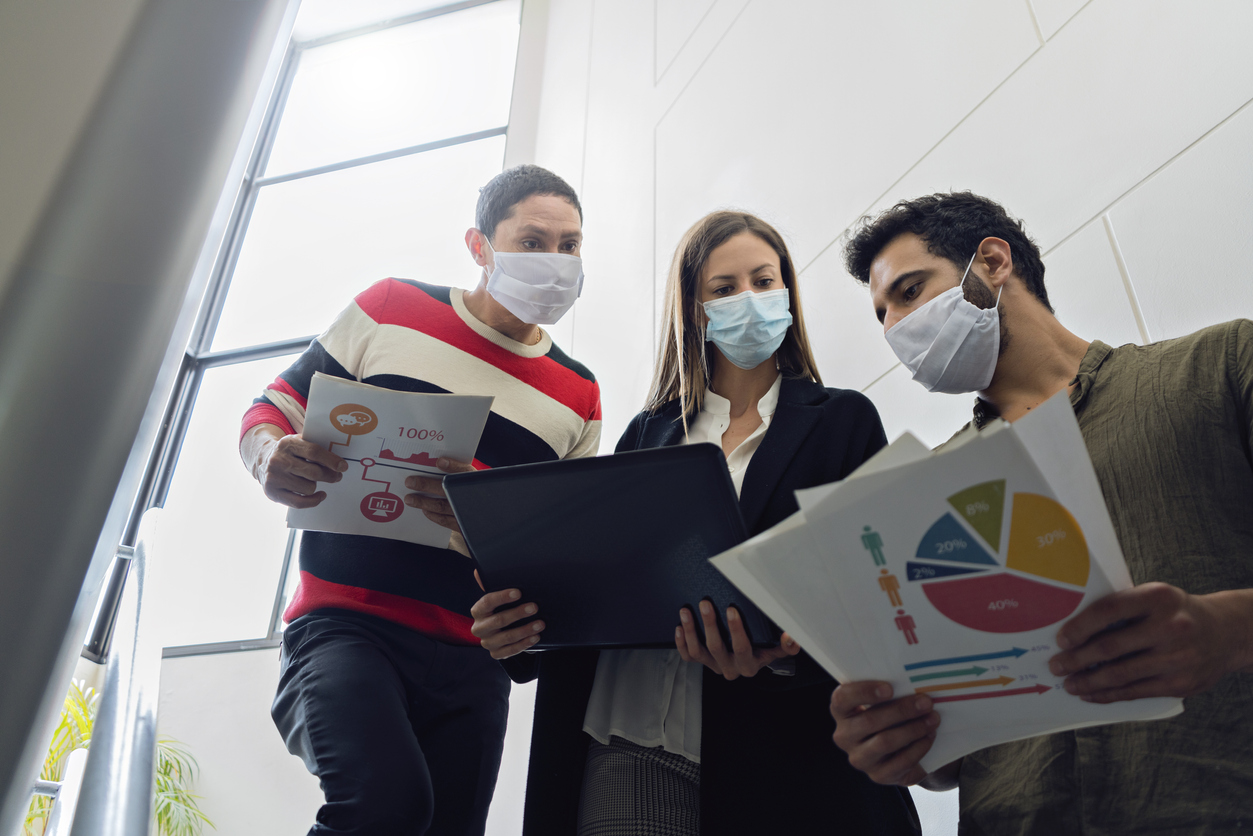 Whatever your business's reopening plan looks like, goals will need to be reestablished and new KPIs set for the transition
Since its escalation in the U.S. in mid-March, the COVID-19 pandemic has meant millions of lay-offs and unemployment claims. Small businesses all over the country have had to shut down temporarily or even for good. According to data from the U.S. Chamber of Commerce, 22% of small businesses are two months or less from closing permanently.
Now, a lot of the country is attempting to reopen slowly so that businesses can be saved. Companies of all sizes must create plans for social distancing and limit the spread of the virus, which is still present. As the economy has been upended, consumer habits and business operations now look a lot different.
As you're preparing to get back to business, you need a plan for setting new goals and tracking new KPIs. Here are a few strategies to help.
A new approach to goal setting
First of all, a major challenge for businesses right now is that it's still unclear when the pandemic will end. Some are predicting a resurgence across the nation that could cause additional closures into late summer and fall. How can you plan and set goals with so much uncertainty?
The key is flexibility. As you're creating new goals for this strange time, the ability to stay adaptable is one of the most important mindsets to bring to the planning table.
That being said, it's still possible to set attainable goals and take it one day at a time. Remember that even during the coronavirus, your goals need to be SMART: Specific, Measurable, Attainable, Relevant, and Time-based.
Right now, the most important aspects of that acronym are relevant and time-based. Set goals that you know you can attain in the short term, since the long-term may change.
What can you accomplish this month or quarter? While these goals will still inform your annual goals, remember that the most important objectives to focus on are for the present.
One example of a short-term goal could be the reopening itself. Goals will be related to the following questions:
Which staff members will be involved? What will their specific roles be?
By what date should the business be up and running?
Which aspects of the business, including products and services, will be returning to normal?
What is the trajectory for services that we can't offer right now due to restrictions?
What changes exist in our supply chain or vendor network? Is everyone operating as normal?
Also create a set of goals for social distancing and other COVID-19-related requirements. These will vary based on your industry. You may need to implement new workplace policies that relate to PPE requirements, like wearing masks, and distancing measures for your workspace or office.
New KPIs to track
New business plans and goals also require new KPIs. Which are most important when creating your new strategy?
Consider focusing more on your customer relationships and trust, and less on retention. You want to show your audience that you're supportive during this uncertain time. This requires diligent planning to be honest, transparent, and genuine. Pay attention to what's changed for your target audience and what they may be prioritizing right now.
For example, don't put customers or employees at risk just because you want to make a sale. If a certain service can only happen safely via a virtual meeting or online service, don't be too quick to shift back to in-person exchanges.
Altering these kinds of practices means that you may not have the same sales benchmarks or other performance metrics. However, it means you can track even more digital KPIs by releasing more online content and gathering surveys from customers on your website, social media pages, or via email messages.
Another KPI that should be prioritized right now is your team's response time. Part of showing your clients that you care is being available and accessible when they need you. Measure how quickly the team is responding to emails or phone calls and following up after the fact.
Other metrics you can incorporate include actual customer feedback. Send a brief survey or questionnaire notification when they're visiting your website or have interacted with your brand. Gently ask for their thoughts so that you can improve as a company. Stress that you value their opinion.
The most important thing to remember is that you need to be adaptable right now. Even as your business reopens, the future is not set in stone. Create SMART goals that focus on what's happening now and in the short term. Connect with your customers on a more human level and adapt your KPIs to be less aggressive.
These strategies will ensure that your business takes the right small steps forward and stays on the path to growth.
Crewhu can help you track customer feedback to help you reopen your business successfully. This tool helps you attribute positive customer experiences to the right employees so you can recognize and reward them accordingly. Learn more when you sign up for a free trial.
Topics: Customer Care, KPI, Resetting Goals and KPIs