Should Your Corporate Wellness Program Include a Game Room?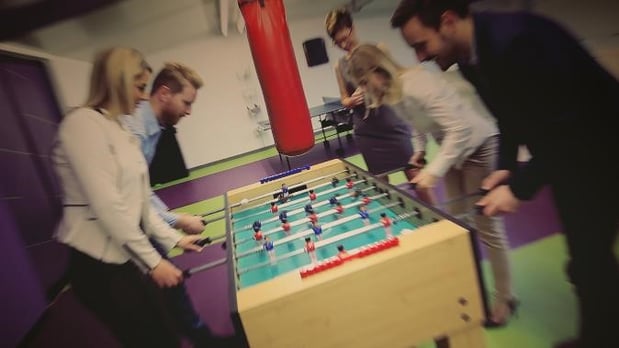 Ping-Pong and pool table laden rec rooms are certainly attractive to employees, but there's more to it than just making an impression – or slacking off. The meta-motivations for game rooms can be traced back to one word: wellness.
Beyond simply fun and games
Wellness can be unfolded into a spectrum of semantics, encompassing everything from the health of a workforce to their ability to work productively together. While it might just seem like goofing off, activities such as Ping-Pong and pool are actually quite effective additions to corporate wellness plans.
The following are unexpected benefits of incorporating a game room into your office structure:
Bonding. Friendly competition is an excellent way for employees to develop their relationships. In the animal kingdom, "play" is vocational training. The team-player skills and friendships that manifest from engaging in multiplayer video games, pool, etc., can transfer directly to their work efforts.
Increased productivity. Sometimes distractions are good. Taking a few moments to step back from a task and engage in an amusing activity can be more efficient than plugging away at it. Furthermore, disengaging from a creative problem often allows the subconscious to process a solution.
Fitness. A simple activity such as playing Ping-Pong periodically throughout the day can help keep blood glucose levels balanced and increase the oxygen supply to the brain.
Improved performance. Just because it's stay-up-all-night fun doesn't necessarily mean it's bad for you. Video games involve critical thinking, multitasking, stress management, and problem-solving. The intellectual efforts expended in playing a game of Call of Duty develop brain "muscles" that can carry over into job duties.
Morale boost. Even those who love their jobs can still fall victim to the monotony of going into the office day after day. Game rooms establish an upbeat, energetic tone to the workday that can help disassociate stress from the office. In other words, work can be associated with having a good time, as well as taking care of business.
There's more to wellness than playing games
A game room is just one way of nurturing a productive, healthy company culture. Here are other affordable ways of creating a winning work environment:
Dog day. Few relationships in nature are as happy as that of the human and dog. Dogs make people smile, they relieve stress, and can even make your office more attractive to guests. When employees don't have to worry about their pups at home alone, they can stay more focused on their work.
Fitness programs. Whether it be providing memberships to a local gym, or onsite yoga classes, nudging your staff toward better fitness pays off in dividends. Fit people have more energy, and they deal with stress better; not to mention, endurance exercises provide excellent thinking time.
Desk decor. Allowing employees to create a comfortable, expressive, workspace provides a special treat for coming into work each day. In addition, including a small allowance for desk decoration to new employees is a nice onboarding gesture.
Don't forget to take a measurement!
Even in open employee/management relationships, it can be difficult to gauge how effective a wellness program is. One way of monitoring the results is via customer satisfaction – happy customers are a keen indicator of happy employees.
CrewHu offers customizable, 1-click surveys to help keep track of company performance, generate employee recognition, and create goal-based contests. Sign up for our free trial today. With CrewHu, you don't have to limit the competitive spirit to the game room!
Topics: employee recognition, employee engagement, employee retention, employee satisfaction, employee productivity, employee appreciation