How to use CSAT Surveys to Boost Your Customer Satisfaction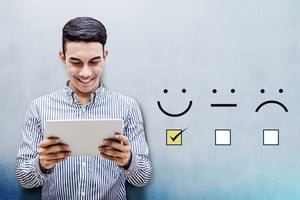 Happy customers are loyal customers, but how do you know how they feel about your business? CSAT stands for Customer Satisfaction and it's a measurement of your customer satisfaction with the service they've just used at your company.
CSAT is the most popular transactional metric to measure — A CSAT survey asks your client how satisfied they are with a recent interaction or customer service call immediately following the transaction. Some common examples include: submitting a ticket via the help desk, requesting network support, or fulfilling a cybersecurity request, etc. That way, you measure the day-to-day specific satisfaction that the customer experienced.

For example, let's say one of your customer's submitted a support ticket to your help desk saying the internet was down and then they call your network support so you can fix the problem. Oftentimes, your customers are just grading their satisfaction with the service provided at that specific moment, with that particular support representative, and for that specific problem.

It's in your best interest to have the CSAT score as high as possible because that means you're actually solving your customers' problems in satisfying ways.
Research by Bain & Company has shown that just a 5 percent increase in customer retention can increase profits by 25 percent. Happy customers are returning customers.

When it comes to CSAT, here are three questions to ask yourself:
How do we create CSAT surveys?
How do we get our customers to fill them out?
How do we make sure that we measure what matters most with CSAT
Crewhu is built to get customer feedback. Our CSAT tools help you collect and act on customer feedback. Here are the best practices on creating an effective CSAT survey.
How to create useful CSAT surveys
This is where you can use Crewhu's platform to create a CSAT survey. It's fast, easy, and effective. Creating a CSAT
is about measuring the satisfaction of your customers with the service they've just used. So the CSAT that you send out needs to be tied to that specific service.
From the example above about the internet going down — the question to ask would be:
"How satisfied were you with John's service today?"
We suggest a one-click format for the survey with one to three graphics for easier understanding:
A sad smiley face for a negative experience (red-colored)
A flat smiley face for a neutral experience (yellow-colored)
A happy smiley face for a positive experience (green-colored)
Limit your CSAT questions to two questions per survey since more will discourage customers from filling out the survey.
How do we get out customers to fill out our CSAT surveys
There are multiple ways to distribute your CSAT surveys. But one of the most effective ways you can do that is through email and phone. In a recent webinar, we talked a lot about the importance of communication and listening to clients. Another effective method for distributing CSAT surveys is through text messaging. We, at Crewhu, partnered with Tixt, a tool powered by Gozynta that allows you to gather customer feedback and increase conversions through CSAT surveys delivered by text.

Not only is it easy to fill out the CSAT on their mobile device, but your customers will notice the text message before anything else.

95 percent of texts from businesses are read within 3 minutes of being sent so this will increase the number of your completed surveys.
How do we make sure we measure what matters with CSAT
We will use the internet going down example once more.
We know that our customer had the internet problem so our CSAT would focus on these two metrics which are the most important ones to measure for our business:
Was the problem resolved (technical knowledge)?
How fast was the problem solved (speed of the service/delivery)?
So the questions for the CSAT would be:
"How satisfied were you with John's support service today?"
Grading in the CSAT would have the options of sad, flat, and a happy smiley face.
The second question would be:
"How satisfied were you with the resolution time of our service?"
Again, the grading for the question would have the options of sad, flat, and a happy smiley face.
We have created an example of how a CSAT looks like catered for MSPs that you can use. You can download the tool for free HERE.
Topics: surveys, customer satisfaction, measurement, Customer Care