Can Gamification Help Replace the Old Company Holiday Party?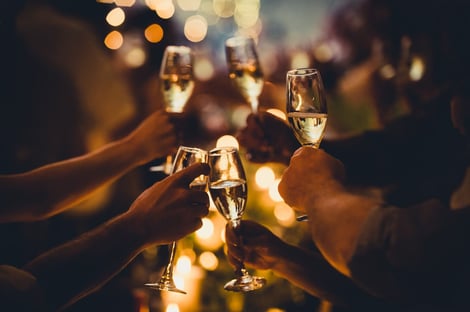 The coronavirus pandemic lockdowns mean the office party may be canceled this year, but that doesn't mean employees need to go unrecognized for their effort.
Key Takeaways:
With the coronavirus pandemic still wild and active, the need to socially distance has made the traditional company holiday party unlikely to convene
Gamification can help you identify which employees are most deserving of a nod and a reward at the end of the year
Apart from the office party, there are several other ways you can recognize and reward your employees across the distance
As variants of the coronavirus continue to crop up and spread, the safety of your employees trumps whatever get-together plans would otherwise be the norm — like showing up every day at the office, for example.
As December approaches, you and your employees are probably becoming more aware of this disappointing reality — the company holiday party is one of the highlights of the year, one which everyone looks forward to and where the year's top performers can be recognized. However, there's no need to completely give up on the prospect of having fun or recognizing employees whose hard work makes them deserving.
You can still do right by your employees without shunting them into an unsavory position where they have to choose between maintaining a safe distance and going to the party
Here are some ways to make that happen:
Budget for an alternate plan
Now that you no longer have a company holiday to look forward to, don't see the situation as a chance to save money you would have otherwise had to spend on a bash. That is a short-term view that will leave you shortchanged on valuable goodwill and employee engagement in the medium to long term.
See the situation for what it is: A safety issue, nothing more. This allows you the freedom to reorient your mindset about what to do in place of the company holiday party to show recognition and appreciation — and how to budget appropriately for it.
If every employee at your company was set to be the beneficiary of $500 worth of entertainment at the company holiday party, you should be looking for alternate ways your employees can enjoy that $500 at the end of the year.
Another benefit is that you don't have to worry about down payments and deposits — meaning more funds to invest in your employees in ways that truly matter.
4 other options that can replace the company holiday party
So, you've got this chunk of money that is meant for each employee. The question becomes, how do you spend it? The goal should be to make it meaningful and worth the wait, especially since it's going to be compared to the company holiday party.
Some options you can go with include:
1. A gift of rest and relaxation
After a hectic year working hard to meet company goals and objectives, employees are going to appreciate anything that helps them rest and relax from their labors during the holidays. This option works well for businesses that have small budgets and are not too busy during the holiday periods.
Plus, it's easy to implement. If Christmas falls on a weekend, you can simply consider closing the office on the Friday and Monday on either side of Christmas, so your employees enjoy the immeasurable benefits of an extended, relaxing weekend with family and friends. If Christmas happens to be on a weekday, what's to stop you from doing the same to ensure your employees really have a season to remember?
2. Virtual holiday events
Your employees are most likely already tired of staring at screens and virtual team meetings all year, but bear with us for a moment. Virtual holiday events can be a great alternative if your company or team is of manageable size. There's nothing like a laid-back video conference in a low-pressure atmosphere with people you know well.
There are lots of great activities you can add to the agenda that would really add to the gel that holds your team together. For example, recipe swaps work great. So would an ugly sweater contest, and happy hours, among others. There are lots of low-pressure team-building activities you could blitz through this holiday if you put your creativity into it.
Gift cards are a great way to support the unique passions, life experiences, and interests of your company employees. Gift cards do away with the age-old dilemma that came to be when the first big-hearted buddy decided to hand over the first-ever gift to the first-ever happy recipient: What should I get them?
When you send gift cards, you're inviting your employees to choose their own gift. Whether it's a new tent because Bob from accounting recently got into outdoor living or a new yoga mat for Brenda who joined the team 18 months ago and is a huge health enthusiast, you can't go wrong with gift cards.
Plus, you can take your time to make the gift truly meaningful by personalizing it and adding context. Send it with a meaningful email that includes personalized and specific thank you messages.
If you've got a lot of time to think about it and prepare, custom gifts are a great way to get everyone excited and help them forget about the party they didn't get. You could have these custom gifts shipped directly to employees, for good measure.
All of this could be taken care of by the budget that would otherwise have gone to the office party.
You don't have to settle for just one option on our list. It's possible to combine all of these options for a day packed with fun, games, and appreciation.
Gamification lends transparency to the employee reward process
Crewhu's gamification and prize automation solution helps employers automate the prize procurement process so they see faster results from their incentive programs. What's more, it provides a level of transparency to the whole process that is sure to be appreciated in a hybrid work environment where not everybody can be present at the office at the same time.
To learn more about how to use Crewhu's gamification and prize automation solution to replace the company holiday party, request a demo today.